Old is New: BMC Teamelite 01 introduces Micro Travel Technology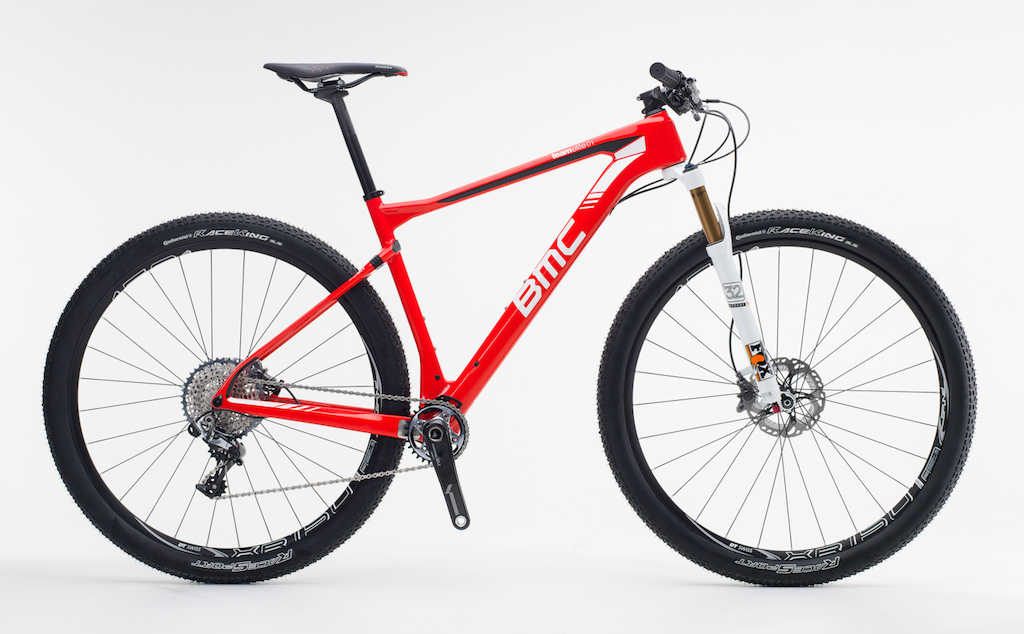 BMC announced
today that its cross-country team will be campaigning on its new-for-2016 carbon fiber Teamelite 01 soft tail suspension bike.
BMC
calls the 15-millimeter-travel suspension "Micro-Travel Technology" and that is exactly what it is. Using a shaped elastomer built into the seat stays between the bridge and the seat tube, the Teamelite chassis is designed to take the edge off of the racetrack without adding the significant weight penalty of a bonafide rear suspension system. The official press release states:
| | |
| --- | --- |
| | Part carbon construction and part technical feature, MTT provides 15mm of rear-end compliance with the dual-guided, fully integrated XCell damper that enhances lateral and torsional frame stiffness, while maintaining a super-low weight of 1080grams for a size medium with hardware. |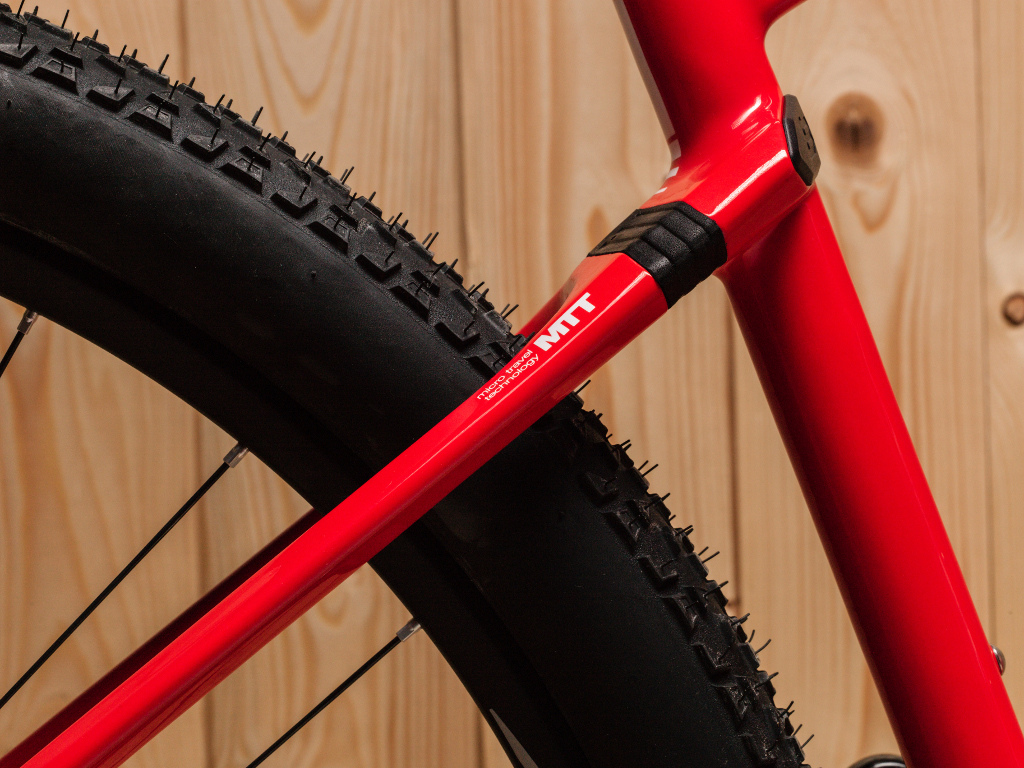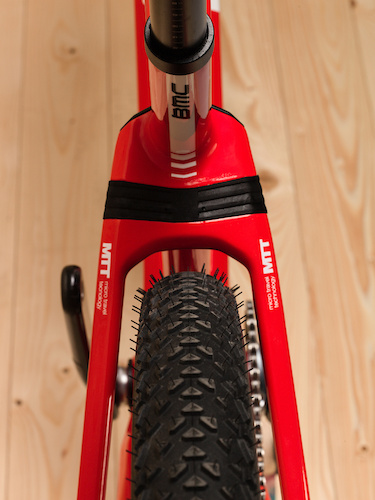 BMC is optimistic that its 15-millimeter-travel MTT suspension system will give its World Cup XC team a leg up on rivals who choose either conventional hardtails or dual-suspension bikes.
What MTT refers to is that there are a pair of shafts which pierce the elastomeric element and guide the movement of the rear triangle so that it stays in line with the chassis. A diagram of that mechanism was provided to that effect. Soft tail technology is neither new nor revolutionary. It dates to the early 1990s, when the first dual-suspension designs were emerging and when there was considerable resistance to the concept. The soft tail offered up a half-step to non-believers who didn't want to be left out, or to prudent buyers who were wary of the risks of being first adopters
Back to the Future
The concept was immensely popular among titanium and steel frame makers who were strapped by their choices of materials and struggled with the complexities of rear suspension. For them, the simple soft tail – a rubber plunger guided between the seat stays and seat tube – was the perfect solution and it fit the profiles of their customers, most of which were hardtail racer-boys, or grey-bearded Ti-men who had no desire to participate in the evolutionary dead end that we now call the dual-suspension trail bike. Soft tails disappeared shortly after the 29er arrived, most likely because larger wheels did a better job of smoothing the terrain than a 26-inch chassis suspended by 20 millimeters of elastomeric joy rubber.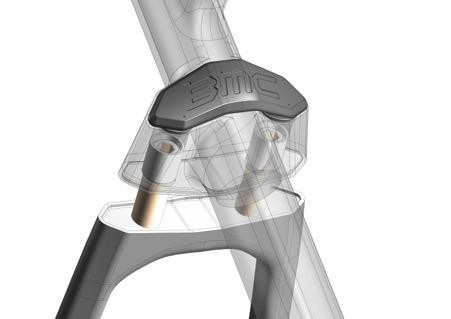 Twenty years later, BMC's re-visitation of the classic soft tail comes in on the heels of some less technical, but equally popular '90's trends like Day Glo colorways and purple anodized CNC-machined components. BMC's Teamelite and its MTT suspension, however, was reborn to serve a higher purpose: to offer elite-level XC racers a little more cushion than a hardtail can provide but not so much that it would tamper with the rider's need for instant and firm out-of-the-saddle pedaling, and maintain the weight of their race bikes to the equivalent number of a pure hardtail. If that rings like something you've heard before, well, consider that the technical skills required to lap World Cup XC venues has increased sharply. Short travel dual suspension bikes have posted a number of victories, but most competitors remain committed to their hardtails. XC racers often spend more training and riding time on their road bikes than they do on a mountain bike of any sort, so from their perspectives, BMC's Teamelite 01 MTT must feel as plush as PB test riders reported
Yeti's SB6c felt
in Sedona's red rock.
Is MTT technology going to revolutionize the mountain bike world? Well, it didn't back then, and it probably won't do so today. Average riders can get that 15 millimeters of plush suspension simply by throwing the 1.8-inch XC racing slicks into the bin and replacing their tires with man-sized 2.35-inch options. That said, BMC's Teamelite 01 represents a powerful tool for a top XC racer, because it gives him or her one bike with which to take on any race track in the world – and in a war of attrition where emotional stability is as important as lungs and legs, providing that sort of consistency can often make the difference between the top step and one of those other podium placings.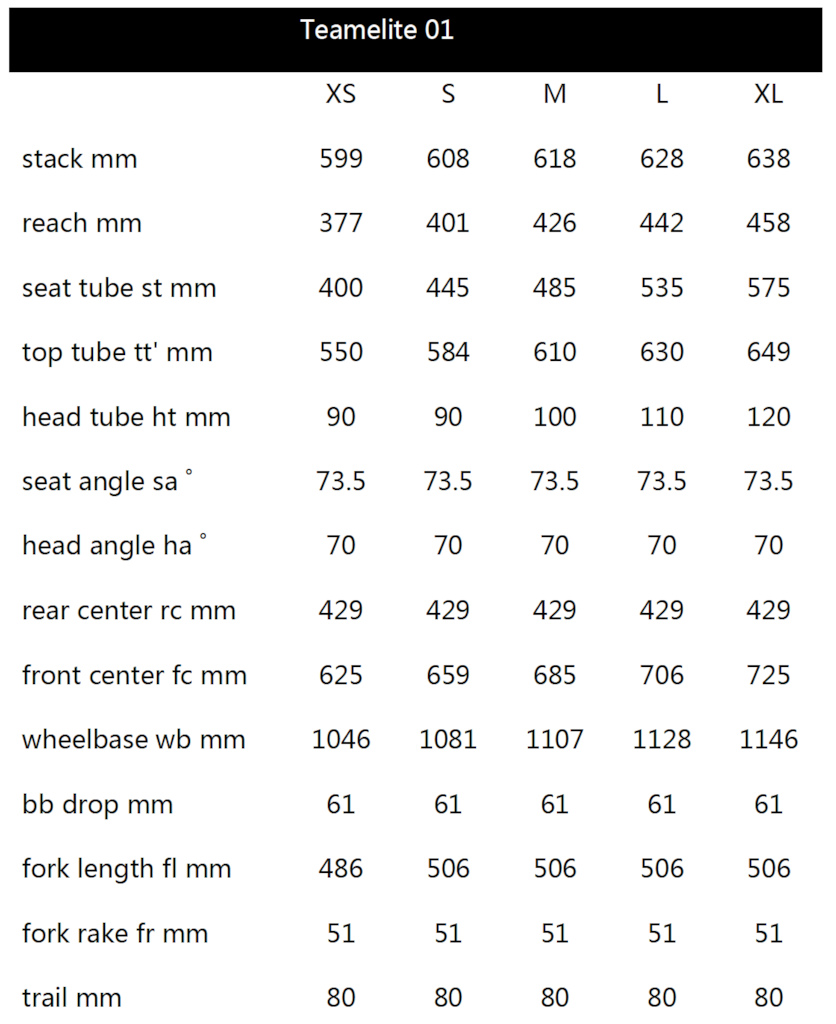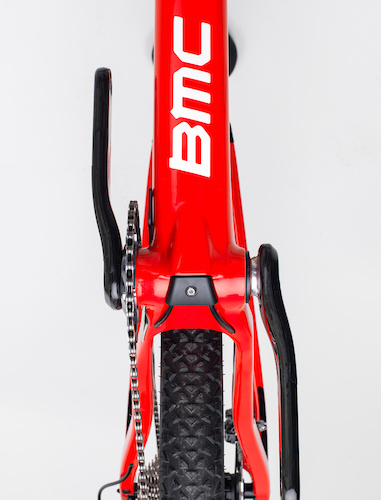 Where we will most likely see MTT evolve towards, is the as yet untapped gravel grinder road bike market, which has already taken disc brake technology from cyclocross hipsters and thrust it into mainstream road riding. I would expect to see the BMC MTT logo on road bikes as early as fall 2015 – but that is a completely different topic. Listen to what BMC's five-time XC World Champion, Julien Absalon, had this to say about his first impressions aboard the Teamelite 01:
| | |
| --- | --- |
| | To be honest, when I tried out the new MTT technology, I was anticipating a compromise. I'm convinced it climbs just as good as last year's bike, with a little extra something for the downhills, which we definitely need. I'm very happy to have this edge! |
Here is the Official BMC Press Release:
Over the past two years, BMC's team of composite engineers has tested and re-tested MTB prototypes at the Impec Lab in Grenchen, BMC's in-house composites and engineering playground. After a final round of testing with the world's most successful mountain bikers, the BMC MTB Racing Team, the end result has come to life in the form of revolutionary race performance. The 2016 Teamelite 01 introduces Micro Travel Technology (MTT) – a new solution for rear-end compliance. Part carbon construction and part technical feature, MTT provides 15mm of rear-end compliance with the dual-guided, fully integrated XCell damper that enhances lateral and torsional frame stiffness, while maintaining an super-low weight of 1080grams for size medium with hardware.
The Teamelite comes is five sizes (including an XS bike with 85mm lower stand-over than the previous Teamelite) and will be available this summer in three builds and a frameset option.
Components / Price – USD
Shimano XTR / Di2 $10599
SRAM XX1 / $6599
Shimano XT / $4599
Frameset: $3599