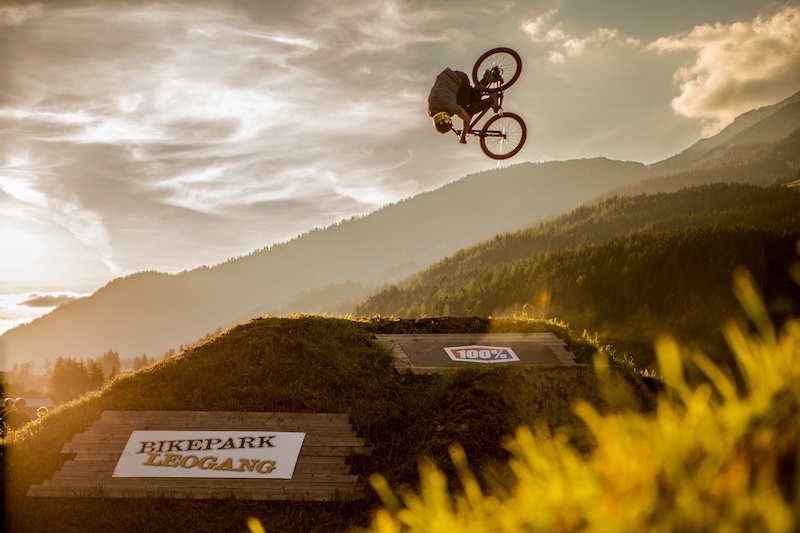 Crazy tricks like cashrolls, twisters or backflips, the superstars of slopestyle and the gorgeous setting of the "Leoganger Steinberge" – 26TRIX in Saalfelden Leogang is a must-see for dirt jump and slopestyle fans. World-class athletes like superstar Nicholi Rogatkin (USA), Thomas Genon (BEL) and Antoine Bizet (FRA) or young gun Emil Johansson (SWE) will send their raddest tricks during the FMB Gold Event while battling for important points for the World Ranking from June 8-11. Big incentive: the two best riders who aren't prequalified yet, can win a wildcard for the FMB Diamond Event Crankworx Innsbruck. Kathi Kuypers (GER) will bear the flag for all the gravity girls out there: as the only female athlete, she will show what she has got. Take a look at the teaser to get in the right mood for 26TRIX!
Nicholi Rogatkin (USA)
What a lineup! The 12th edition of legendary slopestyle contest 26TRIX is a who-is-who of the best slopestylers of the world: Reigning World Champion Nicholi Rogatkin will be competing in Leogang for the fourth time. The 21-year-old American who is well-known for his huge trick repertoire gained a victory in 2014, came second in 2015 and fourth in 2016 – what a track record! Emil Johansson is also returning to the origin of his success: the only 17-year-old Swede made his first ever international appearance at a contest at 26TRIX in 2016. His flawless runs and technically demanding trick combinations stunned judges and fans and secured him a remarkable fifth place. It was only last Friday when Emil won his first ever FMB Gold Event. At FISE Montpellier, he showed a spectacularly stylish run and demonstrated that he is in top form.
Emil Johansson (SWE)
Also, 26TRIX veterans Thomas Genon (BEL), Antoine Bizet (FRA), Sam Pilgrim (GBR), Szymon Godziek (POL) will show off their insane skills at 26TRIX for the umpteenth time. German rider Nico Scholze (GER), the Italians Torquato Testa and Diego Caverzasi who already amazed the scene last year, will also send their craziest tricks and try to reach out for the 26TRIX crown. Last year, Gemma Corbera from Spain was the first woman in history taking part at an FMB Tour Gold Event. This year, Trek Gravity Girl, Kathi Kuypers will show off her skills as the only female rider. Also, old friends like Tom Van Steenbergen (CAN) or BMX Dirt Jump expert Josh Hult (USA) will join the dirt party and compete in the pre-qualifying.
Thomas Genon (BEL)
On Thursday, June 8, the pre-qualifying kicks off at 4pm CEST. About 50 riders, amongst them well-known athletes such as Adrian Tell (NOR) or Rémy Carra (FRA) will show what they have got. During the qualifying on Friday, June 9 at 4.30 pm CEST, the 12 best riders from the pre-qualifying will battle the 20 set riders in order to get a spot in the finals. On Saturday at 5 pm CEST, it's neck or nothing: during the finals, a line-up of 15 riders will present their gnarliest tricks and most stylish moves for the overall victory. Also, the winner of GoPro Best Trick will be established during the finals. All in all, 16,000 Euros worth of price money will be handed out to the athletes. In case of bad weather, the finals will be postponed to Sunday.
Antoine Bizet (FRA)
The following 20 set riders will be competing against the 12 best pre-qualifiers in order to win the title:
Thomas Genon (BEL)
Jakub Vencl (CZE)
Bienvenido Alba (ESP)
Antoine Bizet (FRA)
Paul Couderc (FRA)
Simon Pagès (FRA)
Louis Reboul (FRA)
Nicolas Terrier (FRA)
Sam Pilgrim (GBR)
Lukas Knopf (GER)
Max Mey (GER)
Nico Scholze (GER)
Diego Caverzasi (ITA)
Torquato Testa (ITA)
Szymon Godziek (POL)
Alex Alanko (SWE)
Emil Johansson (SWE)
Anton Thelander (SWE)
Reed Boggs (USA)
Nicholi Rogatkin (USA)
Diego Caverzasi (ITA)
While the slopestylers will show off their coolest tricks, the downhill athletes are getting ready for the UCI Mountain Bike Downhill World Cup on the "Speedster" track during their qualifying runs. On Sunday, June 11, it will be time to find out who will be crowned as the king and queen of the "Speedster". Spectacular side-events round-off the Out of Bounds Festival: the large team- and expo-area gives spectators the opportunity to inspect the downhillers' pits, a breathtaking air show by the Flying Bulls, a pump track, bunny hop and kids pump track challenge and a show with mountain bike trials star Tom Öhler guarantee the best entertainment biking can offer. Obviously, every festival also needs a good party and fans will get just that at the "Pump It Party" in the Outback Bar on Friday, the Ö3-Disco with TOPIC on Saturday and the After Bike Party, which will close out the weekend on Sunday.
The team- and expo-area are open to the public during the following times:
Friday, June 9: 12:00 pm – 08:00 pm
Saturday, June 10: 10:00 am – 08:00 pm
Sunday, June 11: 10:00 am – 05:00 pm
Visitors can take advantage of a special package including tickets and accommodation:
UCI Mountain Bike World Cup Package from June 8 – 11 2017
3 overnight stays incl. 2 day tickets to the event area and all side-events (Ö3 Party, etc.) and the Löwen Alpin Card (guest card for Saalfelden Leogang) starting from € 112,- per person
Book now under [email protected] or + 43 / (0) 6582 / 70660
Fans who cannot make it to Leogang, can check out the UCI Mountain Bike Downhill World Cup in Leogang live and as Video-on-Demand for free under redbull.tv/uci on the Red Bull TV BIKE Channel: redbull.tv/bike. Also, the UCI Mountain Bike Downhill World Cup will be broadcast live on Servus TV.
News about the Out of Bounds festival and biking in the region of Saalfelden Leogang can be found on the bike channel: http://bike.saalfelden-leogang.com, on: www.facebook.com/BikeparkLeogang or on: www.mtb-weltcup.at.
---
MENTIONS: @SaalfeldenLeogang / @FMBA