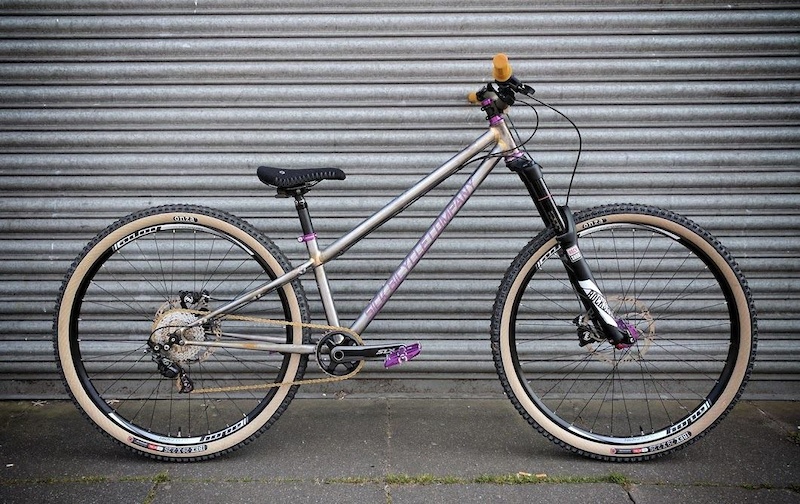 So this is where it all gets real, The Gnarcissist is officially for sale.
Slack, stable, handmade, steel, super-steed. Goes up as well as it goes down. 27.5+ and 29 compatible. Straight up gnar!
All frames will be handmade in the UK out of Reynolds 853 Steel, at Downlands Cycles.
Playful, whippable, railable; still able to smash single track, enduro races or bike parks. Once you've had ten minutes with it; feels like a second home.
In its first enduro race, it took second place, would have been 1st but we insisted it didn't need a chain device (it did, lesson learned)
Looking at the geo on paper, logically speaking, it shouldn't climb well; but it's a hardtail, with a steep seat tube angle, the bike is long and planted so actually it does. The steering is slower on the uphills due to the slack head angle than you typically may ride, but really when was the last time you had to react fast on an uphill? "Watch out for that tree, bro!"
It's not made for Olympic XC races—it's really not—but to shuttle runs at a bike park or enduro events? It's got you. Ripping single track? It's got you. Boosting A-Line whips? It's got you. Coming offline in a rock garden, in the wet, in Wales on a Sunday? You guessed it, it's got you.
Prices on Kickstarter start at £750. For a handmade frame? A steal.
We are 20% funded in just 24 Hours.
Click the link below for more details and FAQ
https://www.kickstarter.com/projects/sickbikes/t-h-e-g-n-a-r-c-i-s-s-i-s-t-hardcore-hardtail
Any questions? Message us on Instagram! We love to chat! https://www.instagram.com/sickbicycles/
If you can't quite stretch to a bike but you want to support two riding buddies follow their dream, we have a number of rewards starting from £10, including these tees and hoodies.
Thanks heaps Tim and Jordan.