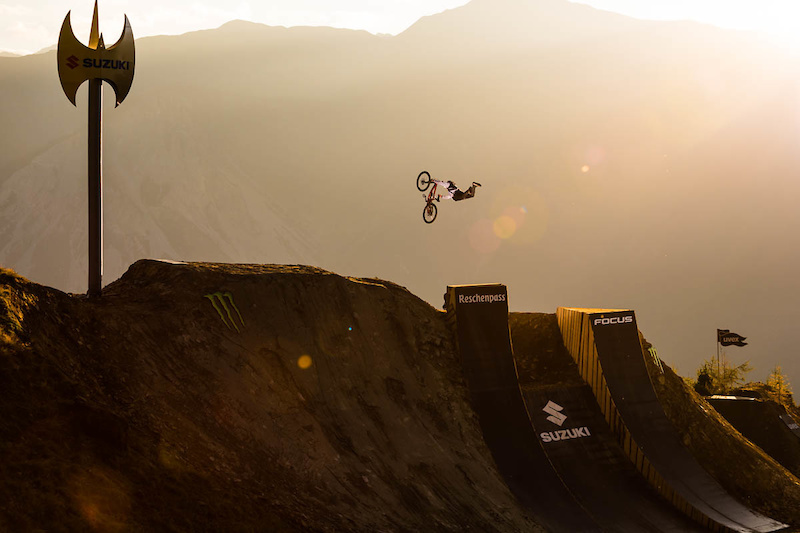 Following a standout first year at Reschenpass, Italy, the Suzuki Nine Knights MTB returns to South Tyrol with a fresh take on last year's impressive course. The "Focus Become a Knight" video contest launches a search for new talent to join Sam Reynolds (GBR) Nicholi Rogatkin (USA), Szymon Godziek (POL), Antoine Bizet (FRA) and many more for the week-long supersession, running from the 4th to the 9th of September, 2017.
Extended Course With New Elements
Brit Sam Reynolds yet again teamed up with Austrians Andi Brewi and Clemens Kaudela from Balzamico Trail Design to continue building on last year's success. The versatile course for 2017 combines flowy lines with progressive freestyle elements offering multiple opportunities to link together longer runs with bigger tricks. Built along the avalanche mound at Haideralm in the Venosta Valley, the course includes a longer flow line, a new big bike jump line, and four different kicker options to take mountainbiking to new heights.
"The Reschenpass venue was incredible for the Suzuki Nine Knights MTB 2016," course designer Sam Reynolds says. "Now that we have a solid foundation to build on, our massive new set-up will open the door to some world first tricks and even more creative lines. I can't wait to get building!"
Freeride Sponsorship and Wildcards
Two amateur or pro riders can win wildcards to join invited athletes thanks to the 'Focus Become a Knight' online video contest. In addition to the wildcard, Focus Bikes is offering a one-year sponsorship for their favourite Freeride category submission featuring a talented non-bike sponsored rider with killer freeride and big bike skills. Meanwhile, the open category entries can highlight dirt jumps, slopestyle tricks, as well as freeride skills.
Submission deadline is the 22nd of August 2017. For more detailed information head to www.nineknightsmtb.com.
Public Contest Day
The culmination of the week's film and photo sessions; the public contest day, will take place on Saturday the 9th of September and feature some of the biggest MTB tricks ever displayed. Pack up your sunscreen and join us at Reschenpass, South Tyrol, Italy for the final showdown.
---
MENTIONS: @nineknights