The programme is finalised for the 4th Rotorua Bike Festival with six brand new events and successful favourites from past festivals all on the menu. The 2015 Festival attracted around 5000 entrants over 10 days, under glorious Summer skies. The team is anticipating similar numbers in 2016. The Festival will launch on Friday February 12 and run through till Sunday February 21.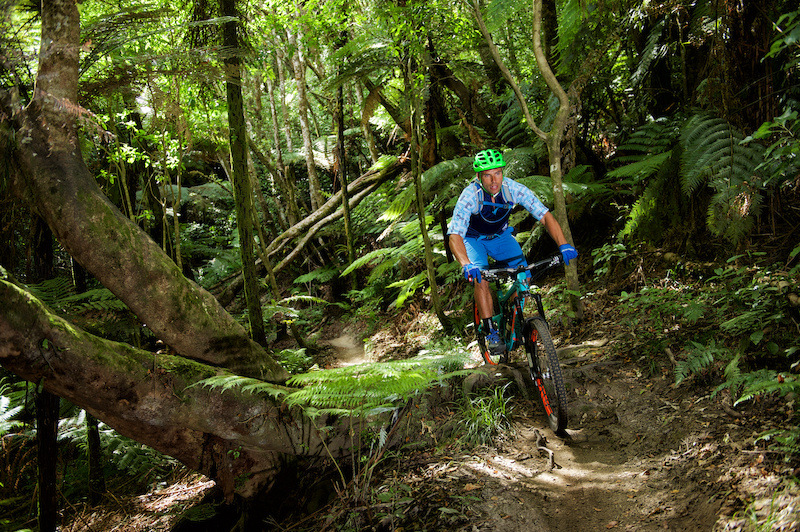 The trails of the Whakarewarewa Forest will feature at the Festival (Alick Saunders/Rotorua Bike Festival; rider: James Alexander)
There are six new events:
• The MTBiker's Ball – Bow Ties and Bike Shorts – will be a chance for riders to party till midnight in one of Rotorua's iconic buildings, The Blue Baths. The event is a fundraiser for the James Dodds Memorial Fund. Pioneering downhiller, skills coach, trails and bike builder, Dodzy died in 2012. The Fund has raised substantial sums since then to build and maintain the Dodzy Skills Park on the northern edge of the Whakarewarewa trail network. "He'd be so touched, proud and shocked at how much has been achieved in his memory," says his former partner, Gabby Molloy. "The ball is a celebration of the people and inspiration that holds Rotorua together and makes it such an incredible place. To be a part of this community and contribute in any small way is a humbling experience and an honour."
Dodzy would've loved another one of the new events:
• The Triple D – Descend Downhill Dash is a short course thrash down the Old Exit Trail, a local favourite. This will include a dog category. "Fido will be pleased," says event organiser, Dave Hamilton, from Descend Rotorua, with his trademark grin.
• One of the Festival photographers, Mead Norton, will run another new event, a workshop on taking better action photographs, using the Triple D as a subject.
• Also new to the programme is Orienteering Bay of Plenty's MTB Rogaine, race one of their Summer series and suitable for solo riders or teams.
• A women's-only event, the Dipper Dash, will debut in 2016. It will be run on one of the original Whakarewarewa Forest trails, by the newest bike club in town, Revolve Rotorua.
• Cycling Rotorua is the city's road club. However, the Hill Climb Challenge they are running is open to all bikes. It'll be a test of strength and stamina up Mountain Road on the slopes of Ngongotaha.
• The final new event on the programme is by far the longest:
The World Endurance Mountain Bike Organisation (WEMBO) 24 Hour Solo World Championships will close the Festival on Saturday and Sunday, February 21 and 22. The Nduro24 2-5 person teams event will run alongside WEMBO – same village, different course. Some of the top endurance athletes in the world will take on WEMBO, including 6 times 24 Hour Solo World Champion, Jason English and 3 times 24 Hour Solo Singlespeed World Champ, Brett 'Jeebus' Bellchambers, both from Australia. They've visited Rotorua before and loved it. Also on the start line, current women's WEMBO champ, the effervescent Sonya Looney, from the USA. It'll be her first visit and she's looking forward to it.
Sonya Looney in Whistler (Colin Meagher)
A new event in 2015, the Runway Project, was a runaway success. 1000 people (all ages, sizes, genders and skills levels) took the once-a-year chance to ride the Rotorua Airport. It is back in 2016, supported by Air New Zealand. It will feature the QE Health Ride the Runway, Holland Beckett Lawyers Flying Kilos (People's for all-comers and Elites for some of the very best riders in New Zealand). Straight-line drag races. The day will culminate with Project Excalibur, an attempt on the outright New Zealand bike speed record. The Runway Project is a mini-festival of cycling and a reflection of the nature of the overall Festival, which is all about the local community and inclusiveness. Ride the Runway partner, QE Health is a spa and rehabilitation centre, based in Rotorua since 1942. "Every week, we work with people with chronic conditions to improve their lives, with a holistic approach, including Spa treatments that make Rotorua famous round the world," says General Manager, Andrina Romano. "We also welcome locals, people from round New Zealand and international visitors to experience and enjoy these. For us, this is all about community and wellness, so the healthy, on-your-bike message of Ride the Runway is an exact fit."
QE Health Ride the Runway, all about everyone on any bike. (Alick Saunders/Rotorua Bike Festival)
Also back in 2016: the Redwoods Coast, Giant 2W Gravity Enduro, Rotorua BMX National Qualifier Meet, MTB Adventure Quest, Bike Speedway, The Big Bike Film Night, the 16" Dual Slalom 'World Championships', MTB Beginner's Ride, Bike the Lake, Frocks on Bikes and Sport Bay of Plenty Go-by-bike, Family Fun Ride and Tykes on Trikes. And returning to the festival line-up, after a one-year break, is the very popular Skyline Sprint Warrior, the first event to sell out in 2014.
Everyone's welcome with all events open to the public to enter and some are free of charge or gold coin donation, only. Spectating? That's free, too.
Rotorua, New Zealand, the world's premier, all-year-round, MTB resort.
www.rotoruabikefestival.com
Facebook
Check out video from 2015 – by EIVO MEDIA.
Daily video in 2016, exclusively right here on Pinkbike..