Bike Setup, a New iOS App
RECORD – RIDE – RATE – REPEAT – Until you get your suspension set up perfectly. That's the idea behind Bike Setup, a new App that lets you record the suspension settings on your mountain bike so that you can figure out for each bike and on different types of terrain, what feels good and what's faster.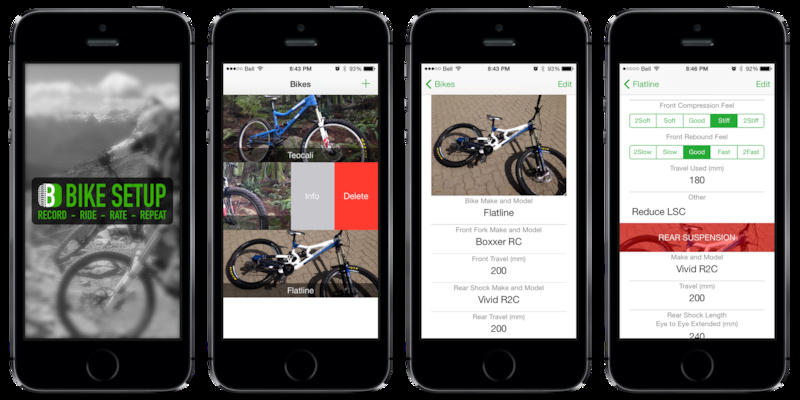 Bike Setup can record the following information:
– Can store multiple bikes.
– Allows multiple setups for each bike including front suspension, rear suspension and tire performance.
– Trail information and lap time for each setup (via your choice of lap time measuring app or device).
– Weather and trail conditions during testing.
View our website or video page to view a slower more detailed video demo of the App.

Bike Setup is useful in a number of ways:
– Its on your phone so easy to take on the trail with you.
– Helps you set-up your bike right and motivates you to experiment with different settings.
– Records ideal settings, useful if you send your suspension away for service or lose air pressure and have to add air.
– Lets you find ideal setups for different styles of trail and better understand how your suspension works.
– Helps racers and their teams compare which settings are faster.
– It helps maintain and build new trails, at least 5% of all profits from the app will be donated to our local trail association, the NSMBA, to date we have donated $100.

For further information and a detailed list of information recorded by the app, please visit our website.

Bike Setup is available in the iOS App Store for $0.99, view it in the App Store here

The number one request we have had is for an Android version. This is a side project for us on top of our regular jobs, we are aware of the demand and are currently thinking about how to get it on Android.

Let us know what you think in the comments section.