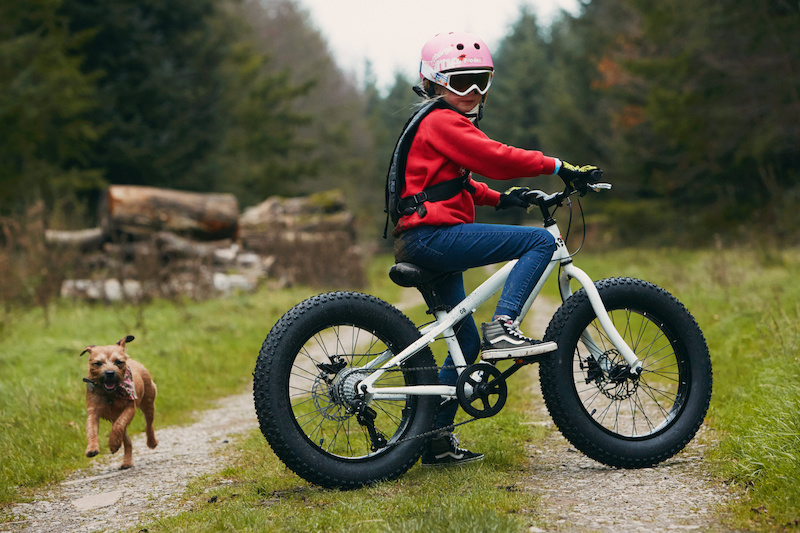 UK based bike brand, Charge Bikes, has launched its first Kids range with a 20″ and 24″ version of the 'Cooker' fat bike. The range is exclusive to the US market and is available through independent retailers and Performance Bicycle.
The Cooker 20″ is a smaller white 20" wheel for younger riders and the Cooker 24″ a larger blue 24" for children 8+. Both models feature 4" Fat tires. Fantastic fun, grippy, easy to handle and confidence boosting the new range is perfect for parks & pavement or trails & tougher terrain.
According to Logan Argent, Product Manager at Charge Bikes, 'These bikes are designed for great riding and 'go anywhere' fun at an amazing price. The kids Cooker is a fantastic chunky looking machine that will make the owner the envy of all their friends. I wish I was small enough to ride one!'

Key features are as follows:
• 4" FAT TIRES
• 7 SPEED SHIMANO GEARS
• STEEL FRAME AND FORK
• MECHANICAL DISC BRAKES
• GREAT VALUE
Cooker 20", White. MSRP $299.99
Cooker 24", Blue, 4" tyres. MSRP $349.99.
More details can be found at www.chargebikes.com.
About Charge bikes.
Charge is a UK based bicycle brand that designs practical, stylish and refined bikes for the everyday cyclist. Charge stands out for being a simple, robust and stylish choice in the increasingly confused world of bike buying and aims to make the buying process simpler for beginner and intermediate cyclists.
---
MENTIONS: @ChargeBikes