Albstadt, Germany is set to showcase the second Cross-country (XCO) battle of the season during round three of the UCI Mountain Bike World Cup presented by Shimano. Just a week after the wild season kickoff in Nové M?sto na Morav?, Czech Republic, emotions are still high and riders are eager to continue the clash. Can Switzerland's Nino Schurter, who won the Czech contest, tighten his grip on the top of the leaderboard? Will Denmark's Annika Langvad, who charged to the women's crown in Nové M?sto, build on her dominating early-season performance?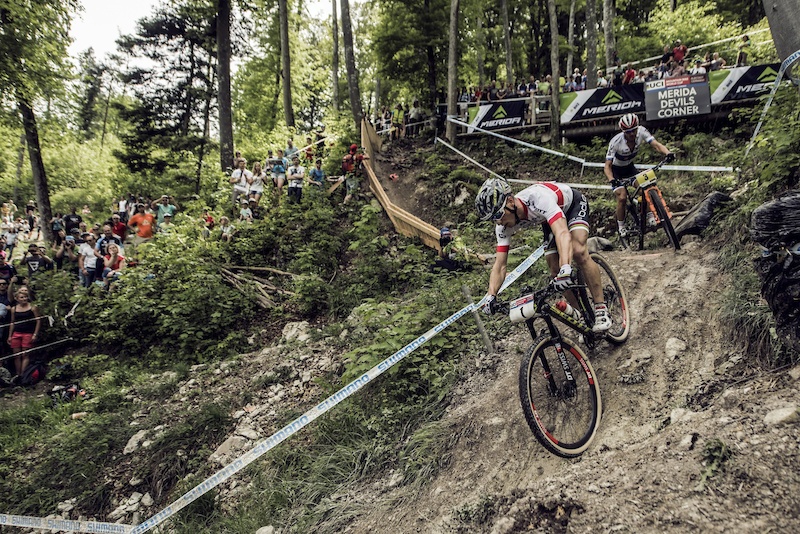 In 2016 Nino Schurter and Julien Absalon raced head-to-head for one of the closest finishes in XCO history in Albstadt.
In the heart of the Swabian Alb just outside Albstadt, this physically demanding course is no piece of cake. Each 4.2km lap serves up two long, steep climbs alternating with fast and technical descents like the notorious "Devil's Corner." Riders must take risks to gain an advantage, and if it's raining, this course will turn slick in a heartbeat. Altstadt's mass of excited and loud fans will show up in force for the "Battle for Europe" as the men who went one-two on the course in 2016 – Olympic Gold Medalist and multi-time World Cup and World Championship winner, Nino Schurter of Switzerland and France's, Julien Absalon, arguably the best XCO athlete in history with seven overall titles – continue the greatest rivalry in mountain biking.
Nino Schurter whipping on the way to his first world cup victory of 2017 in Nové M?sto.
The men's race in Nové M?sto got off to a scary start with two start line crashes and the resulting pile-up.
The women's field is stacked with standouts. World Champion Annika Langvad (DEN) took the win in Nové M?sto with an impressive margin and will be a hot favorite for another win. 46-year-old, but seemingly ageless, Sabine Spitz (GER) retired from her retirement announcement and showed amazing form in Nové M?sto by taking 2nd place. Albstadt is Spitz' home race and she will be more than eager to take a win in her home country.
Canada's powerhouse pair of three-time World Cup overall Champion, Catharine Pendrel and young Canadian Champion Emily Batty – both podium headers from last year – are also strong contenders for the podium and, having finished outside of the Top 10 in Nové M?sto, will hit Albstadt with a vengeance. Norway's Gunn-Rita Dahle and Switzerland's Jolanda Neff are also aiming –and able – to leapfrog over all of them. It's going to be a make or break race for many as the short XCO season will already be well under way.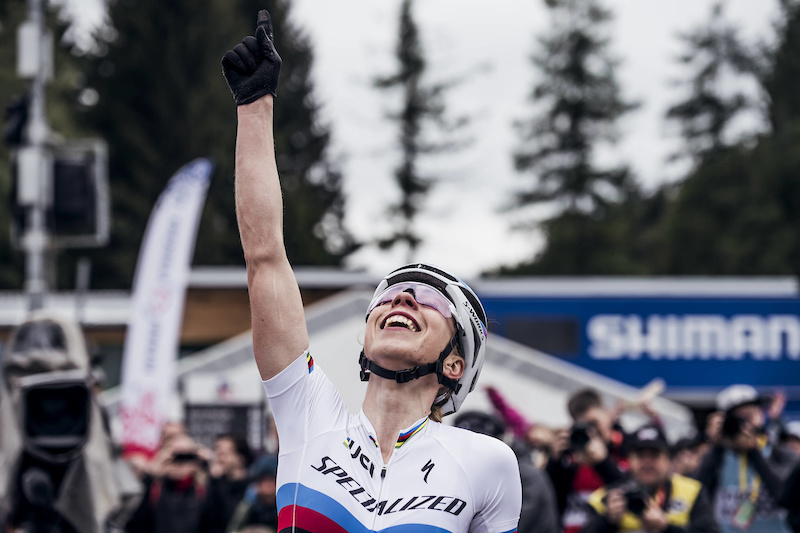 Annika Langvad celebrating her victory in Nové M?sto.
Watch round three of the UCI Mountain Bike World Cup 2017 free of charge, live and on-demand, at redbull.tv/uci on Sunday, May 28. Women's coverage begins at 9:00am UTC, followed immediately by the men's live broadcast beginning at 12:00pm UTC. And get the latest on everything bike related on the Red Bull Bike Channel at redbull.tv/bike.
Missed the first Cross-country world cup of the season in Nové M?sto? No problem! Visit redbull.tv for the full on-demand replay of the men's and women's race.
Red Bull TV is available on connected TVs, gaming consoles, mobile devices and more. For a full list of supported devices, visit this page.
Watch the 2017 UCI Mountain Bike World Cup presented by Shimano – LIVE on Red Bull TV
May 28: Albstadt, Germany (XCO #2), Live on Red Bull TV 12:00pm UTC
June 4: Fort William, Scotland (DHI #2), Live on Red Bull TV 12:00pm UTC
June 11: Leogang, Austria (DHI #3), Live on Red Bull TV 11:00am UTC
July 1,2: Vallnord, Andorra (XCO #3/DHI #4), Live on Red Bull TV 11:00am/10:00am UTC
July 8,9: Lenzerheide, Switzerland (XCO #4/DHI #5), Live on Red Bull TV 11:00am/10:00am UTC
August 5,6: Mont-Sainte-Anne, Canada (XCO #5/DHI #6), Live on Red Bull TV 5:00pm/4:00pm UTC
August 26,27: Val di Sole, Italy (XCO #6/DHI #7), Live on Red Bull TV 11:00am/10:00am UTC
See it with your own eyes, live on May 28, and on demand anytime, only on Red Bull TV!