Danny MacAskill Premiere at Eurobike 2014

Over 3,000 fans came to Eurobike, the biggest bike trade show in the world, to see Danny MacAskill's Drop and Roll Tour presented by Livigno. Amazing riding, signing sessions and loads of free goodies for fans created one of the biggest highlights of the 4-day event.
Danny MacAskill is renowned for being a YouTube phenomenon, his films have collected over 150 million views. His real-life performances are packed with some of the greatest hits from his featured videos. The reception of the Drop and Roll crew could not have been better. In total, more than 3,000 cheering and clapping fans came out to witness the show. Then, the queues lined up for the chance to get that all-important 'selfie' with the riders.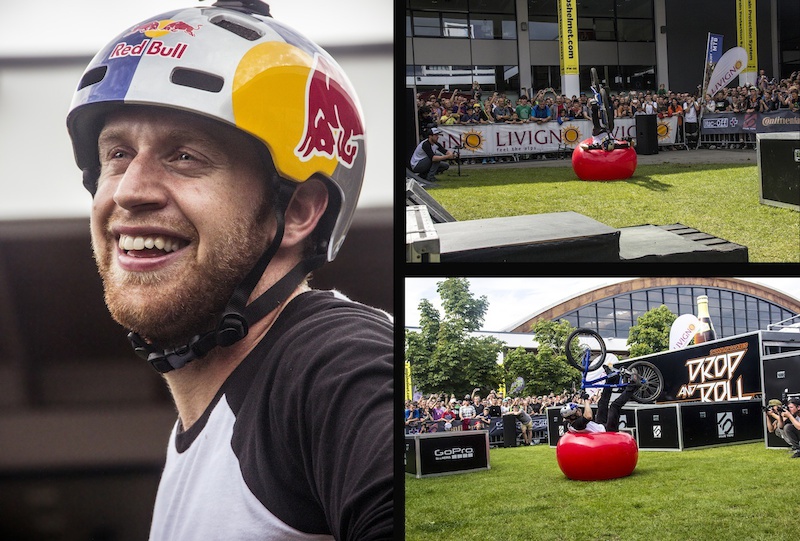 "I have wanted to do a big show at Eurobike for years now and it was great that Livigno and Eurobike helped us put on an amazing event. I hope to come back to Germany soon – the crowd is great out here!" – Danny MacAskill
The Drop and Roll Tour has been rolling throughout Europe since June this year. Performing at Eurobike, where everyone shares the passion for riding was a unique experience. One of the most technical riders on the team, Duncan Shaw has over 700 shows under his belt, but Eurobike was a whole new level for him. His precision was greatly appreciated when he dropped off the 14-foot box to land between Danny's legs, just inches away from his 'crowned jewels'.
"To be doing shows at Eurobike in our first year as a team was fantastic. The awesome crowds that came out to see us, made the 2,500 mile round trip well worth it." – Duncan Shaw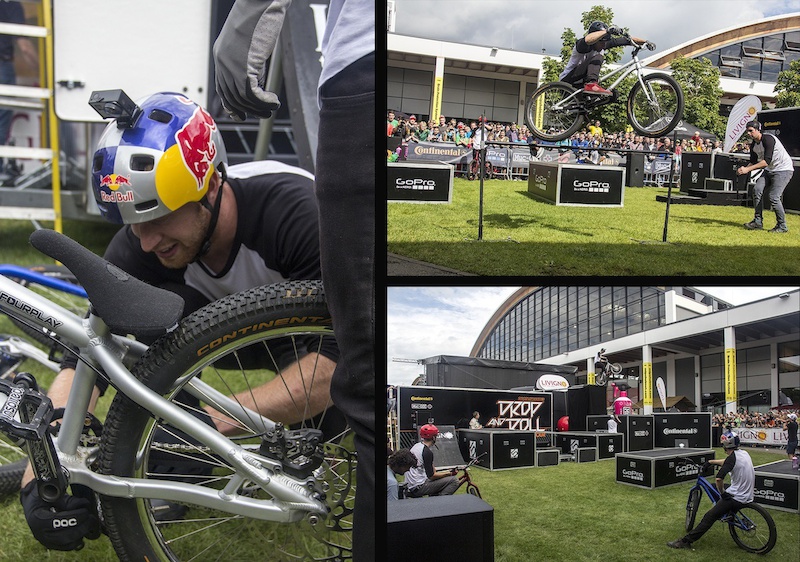 Located close to the Austrian boarder, there was no shortage of Fabio Wibmer fans. Aged 19, Fabio is youngest rider on the tour. Fuelled with street style tricks, he made 360 tailwhips off the Muc-Off box seemed like a walk in the park.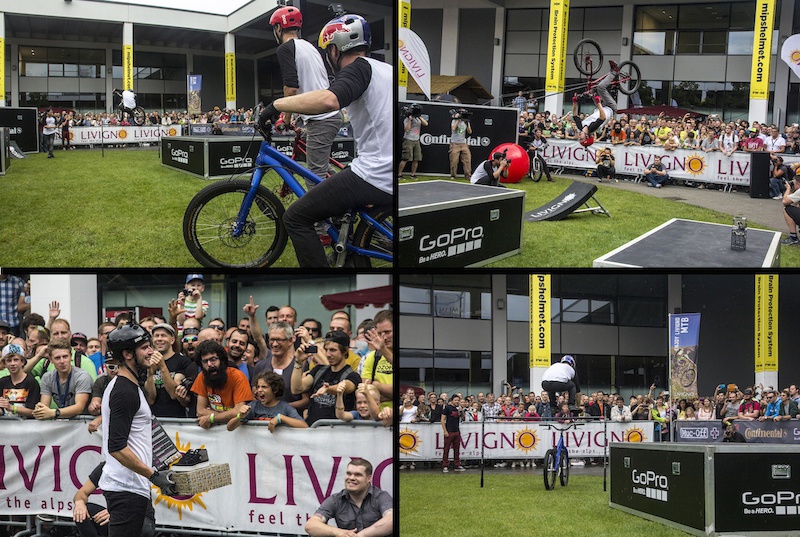 The main event host – Livigno has worked closely with Danny MacAskill in the past because of his trips to the Italian bike resort. President of the Livigno tourism board, Luca Moretti could not have been happier to see them in Friedrichshafen: "We are really satisfied with the two days at Eurobike 2014. The great success of the Drop and Roll Tour show, performed by Danny MacAskill and his crew gave us a lot of visibility. Huge crowds came out on both days and were all crazy about the amazing show. Danny is an exceptional athlete and fully represents the cool and active soul of Livigno that we are promoting. "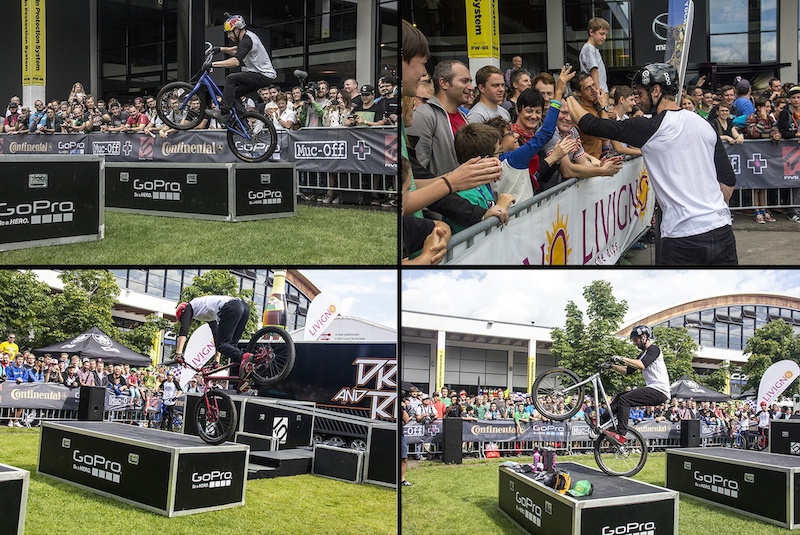 If you have an event, show, festival or just a good party near you then why not book a Drop and Roll show and become an official part of the tour! Event requests can be sent to [email protected] .
We will see you on the road!
Danny MacAskill at the Playboy Mansion