Dates Announced for Crankworx Rotorua Enduro 2015



It's On. Kiwi mountain bikers are pumping with the announcement of Kiwi elite racer place-holdings and wildcards for the 2015 Crankworx Rotorua Enduro as part of the World Series on 28 March.

The Crankworx Rotorua Enduro is round one of the Enduro World Series (EWS) season, marking the start of the professional mountain bike racing calendar. With Enduro being the fastest growing competitive discipline of mountain biking in the world, there is huge demand for the limited 400 spots. Public entries will open at 9am New Zealand time on Thursday 22 January/8pm GMT on Wednesday 21 January, 2015 with entry fees 85 Euro (approx NZ$135). EWS events can sell out within the hour, so this is a date to highlight on the calendar. The Crankworx Rotorua Enduro is offering equal prize money for men and women with the second biggest cash prize in the series behind Whistler, Canada.

Crankworx Rotorua Enduro race manager, Neil Gellatly says he believes it is the first time a wildcard announcement has been made transparent and he is proud to hold 20 spots for Kiwis so they can ride at home alongside the world's best, with friends and family supporting.

"It's important to have a strong New Zealand presence in this Crankworx Rotorua Enduro race as it's a sport we want to grow – if these wildcard entries help to propel Kiwi riders onto the world circuit, it will be huge for New Zealand mountain biking."

Enduro mountain bike racing took off in New Zealand two years ago and has quickly exploded in popularity with more than 40 Enduro events nation-wide in 2014. Enduro is similar to car rallying based on timed downhill runs and untimed uphills. Racing is held over a series of stages and the fastest combined time after those stages wins. However, riders also need to get between stages within a certain time frame. Enduro racing is also renowned for its approach where amateurs race on the same course on the same day as professionals.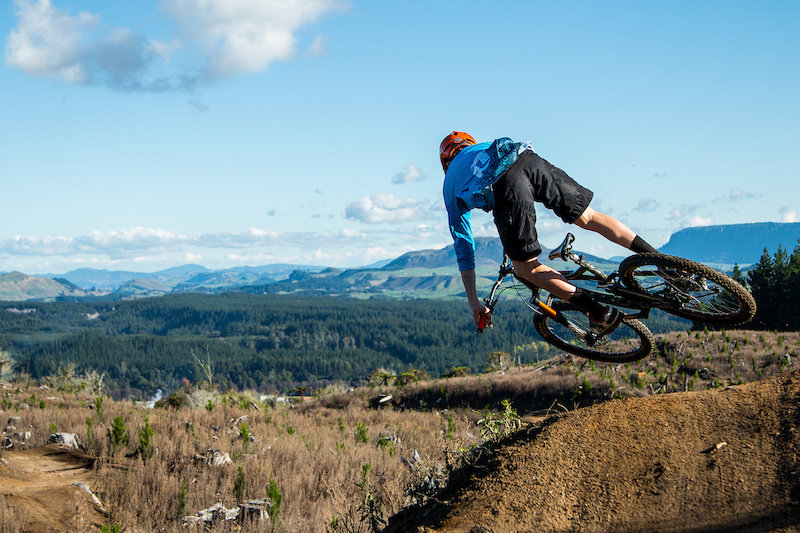 So far placings in EWS rankings have reserved places for nine Kiwis including women in the EWS Top 20: Rosara Joseph, Anka Martin, Gabby Molloy and Meggie Bichard. Kiwi men in the Top 100 EWS rankings are: Justin Leov, Jamie Nicoll, Joseph Nation and James Hampton, plus Kurt Lancaster (who secured his spot with a Top 2 ranking in the 2013-14 NZ Mountain Bike Crown).

The 20 wildcard spots have been offered to the Top Five Kiwi women riders and Top 10 men from the 2013 – 14 NZ Mountain Bike Crown Enduro Rankings. The women are: Raewyn Morrison, Jenna Makgill, Anja McDonald, Harriet Harper and Sasha Smith. The men are: Matt Walker, Byron Scott, Connor Macfarlane, Hayden Lee, Ed Kerly, Karl Paterson, Reuben Miller, Jimmy Pollard, Ben Robson and Tom Lamb.

Another five places will be allocated at the Crankworx Rotorua Enduro race managers discretion, so riders wishing to express their interest should email Mr Gellatly if they fit the following criteria: ability and placement in a New Zealand Enduro event in the 2013–14 season and the 2014–15 season up to December 14, 2014, and/or ability and placement in an International Enduro event in 2014.

Mr Gellatly says all Crankworx Rotorua Enduro reserved riders and wildcard riders who accept their invitations have one week to enter before public entries open. The best way to stay up-to-date with entry details to follow the EWS Facebook page.

"I'm really excited to see people apply for the remaining five wildcard spots – this means the rest of the 2014 NZ Enduro season will be highly competitive as ability and placings will determine entry."

Kiwi riders will also feature in the 30 Official EWS Teams handpicked by the EWS Board – these teams are made up of a varying number of the world's best riders and represent the biggest brands and fastest racers on the planet. The Enduro World Series uncovers the world's best trails and unites the world's best mountain biking communities – in 2015 it is increasing to eight rounds with five new venues, three new countries and one new continent (NZ). The rounds of EWS will visit (in order): New Zealand, Ireland, Scotland, France, America, Canada, Spain, and Italy.

www.crankworx.com/rotorua