Deadline Coming Up: Proposals Due March 6th for 'Bell Built' Program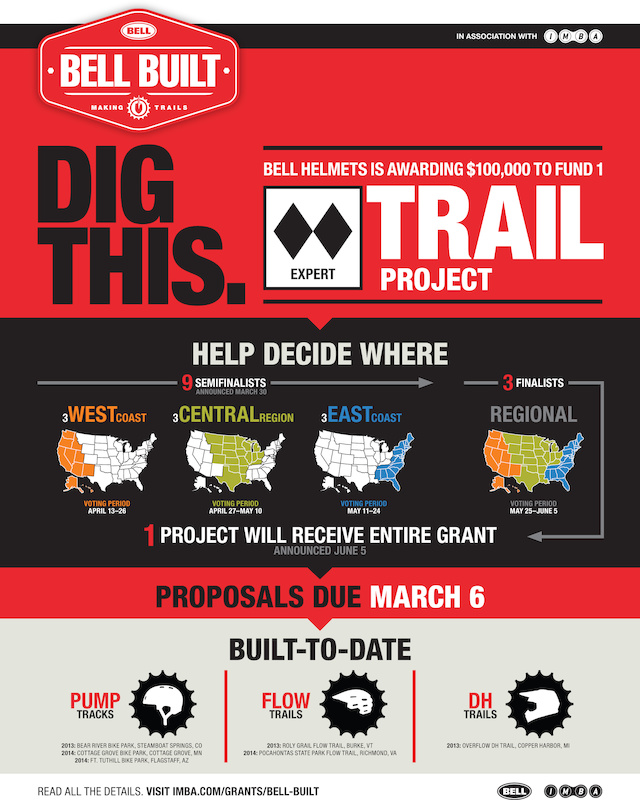 Bell Helmets, a company that since 1954 has delivered purpose-built helmets marked by industry-leading design and performance technologies, today announced the continuation of the Bell Built program into 2015. The Bell Built grant program strives to identify, fund, and ultimately create new, accessible trails within bike communities. The program seeks to inspire new and existing riders to come together for their community, learn what it takes to fund and build a legal riding destination, and ultimately build a trail never ridden before.
For the first time ever, Bell will provide trail assistance for a single mountain bike project in the USA, with one winner being awarded the full grant amount to construct an advanced and aggressive technical
trail. The success in the first two years has been remarkable, and in its third year, Bell Helmets reaches $300,000 donated towards technical assistance grants for trail building, which will net out to seven
complete projects since 2013.
The list of 2014 winners include:
? West Winner – Flagstaff Biking Organization, Ft. Tuthill Bike Park (Flagstaff, Arizona)
? Central Winner – Minnesota Off-Road Cyclists (MORC), Cottage Grove Bike Park (Cottage Grove,
? East Winner – RVA More, Richmond Regional Ride Center Flow Trail (Richmond, Virginia)
"To have the opportunity to build a trail for our local community has been surreal," said Anthony Quintile of Flagstaff Biking Organization. "Together, Bell Helmets and IMBA made our dream become a reality and the whole process has been unbelievable. It's rewarding to see how it brings our community of mountain bikers together, and we can't thank them enough for not only starting the program, but seeing it through to become the annual program it is today."
In 2015, the annual Bell Built program looks to build upon its success with a slight change in the program, which will see one grand-prize winner being awarded $100,000 in technical assistance from IMBA Trail Solutions for their dream trail. Bell and IMBA will choose three projects from each region (East, West and Central) for a total of nine finalists. The winner will be determined based on three sequential voting periods before reaching the "finals" where the top project from each region will go up against each other in the final voting period.
"We started Bell Built three years ago with a hope that it would become an annual grant program that opens new places to ride," says Azul Couzens, Bell Helmets Director of Marketing. "To see the positive
reaction and impact the six trails have had so far within these communities is incredible. We're so excited for our third year and can't wait to build a new advanced and technical trail."
Bell Helmets and IMBA have received nearly two hundred grant submissions since the program's inception in 2013 from IMBA chapters, clubs and land management agencies. IMBA Trail Solutions, the international leader in developing singletrack trails, has been responsible for the building and designing of all six projects and will continue that in 2015 with help from local volunteers.
"The Bell Built program has been an overwhelming success in its first two years, and we're all looking forward to learning what our third year will bring," said IMBA Executive Director Mike Van Abel.
"To see every community and organization rally to come together with such enthusiasm is extraordinary and shows the impact that a program like this has at the community level. The whole team is excited to start building our next trail."
Starting today, Bell Helmets and IMBA will begin taking 2015 proposals until March 6, with the nine finalists named the following week. Voting will then come in three regional phases, starting in April with the West and Central regions, before ending in May with the East region. From there, the final project will be voted on and officially announced in June, with trail design and construction beginning soon.

---
From humble beginnings in the garage of a Southern California speed shop in the 1950's to the heads of champions in auto, motorcycle and bicycle competitions all over the world, Bell Helmets is synonymous with protection and progression. Part of Easton-Bell Sports and based in Scotts Valley, Calif., Bell
Helmets is the world leader in the design, manufacture and distribution of bicycle and motorcycle helmets and accessories. Bell Helmets is online at bellhelmets.com.
The International Mountain Bicycling Association (IMBA) is a 501(c)3 non-profit educational association whose mission is to create, enhance and preserve great mountain biking experiences. Since 1988, IMBA has been bringing out the best in mountain biking by encouraging low-impact riding, volunteer trailwork participation and cooperation among different trail user groups. IMBA's worldwide network includes 35,000 individual members, more than 750 bicycle clubs, over 200 corporate partners and about 600 retailer shops. Learn more by visiting imba.com or facebook.com/IMBAonFB.