Enduro World Series 2015 – Registration Dates
Photo: Matt Wragg
It doesn't seem long since Jared Graves and Tracy Moseley were crowned this year's Enduro World Champions – but in just a month's time entries will open for the 2015 Enduro World Series. With eight rounds next year and demand for places expected to be high, this year there will be a phased entry system to try and help as many people as possible secure a spot.
All registration will take place here
The first race of the year is in March, when the series heads down under to New Zealand for the inaugural Crankworx Rotorua. Entries for this race will open on Thursday, January 22 at 9am NZDT. Then on Wednesday, January 28th Ireland, Scotland and France will be available to enter – these will go live at 5pm GMT.
Next up are the North American rounds, with Whistler in Canada and Crested Butte in the USA opening for entry at 9am PST on Wednesday, February 4th. And last but not least, Zona Zero in Spain and Finale in Italy will open their virtual doors on Wednesday, February 11th at 5pm CET.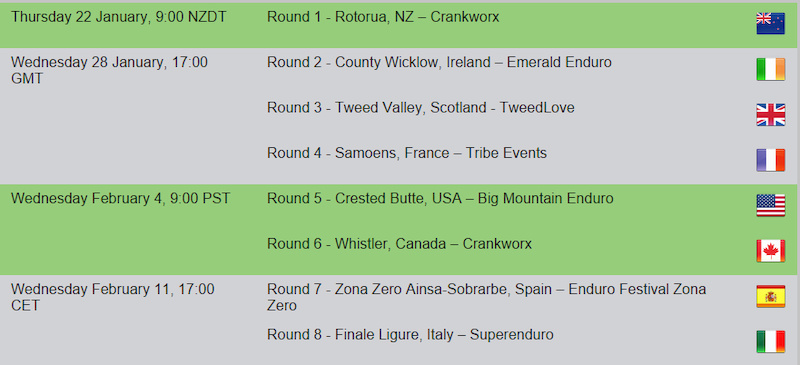 Chris Ball, Managing Director of the Enduro World Series, said: "Next season is shaping up to be incredible – with eight rounds and five new venues it's going to be our biggest year yet.
"Last year some races sold out in minutes so this year we've decided to change up the entry system a little. By opening registration in four stages we hope it'll be easier for people to enter all the races they want to take part in, as well as grouping together races that are close to each other or on consecutive weekends. We've also made sure that the races go on sale at a time that corresponds with the host country, so local riders don't have to get up in the middle of night to enter their nearest race."
---
Mentions: @EnduroWorldSeries