The summer is always a hectic time for racers, within hours of the champagne spraying in Aspen, the team was in the air headed for their next appointment: Whistler, Canada. With a week in between the races, there was some time to enjoy the trail network in the mountain bike mecca. Time to ride, relax and recover before it all started again for round six.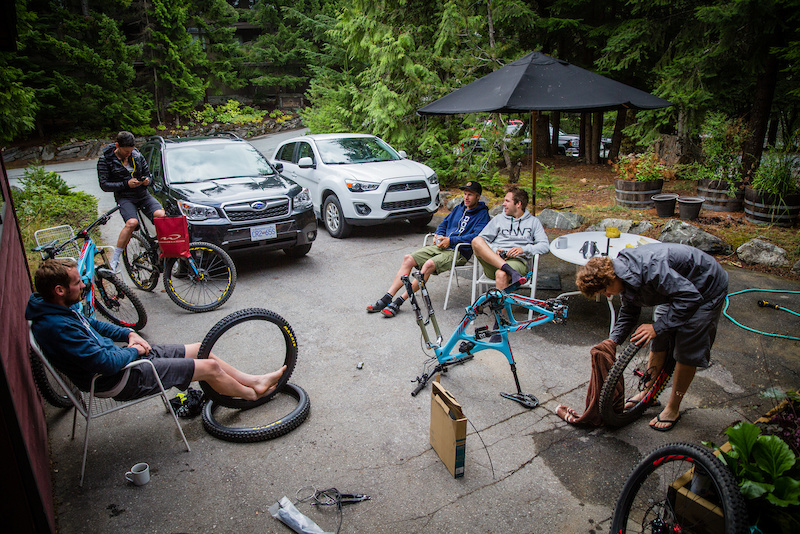 Whistler is always a demanding race and one where the riders can never be sure what the organisers will throw at them. With three days of practice and a race course that took in over 5,000m of descending it was set to be a big week. On track the challenge was arguably the most complete the riders will face all season, with the course taking everything from flat out bike park, to steep rock slabs and awkward roots; from pure descent to lung-busting climbs, all topped off by the final, iconic stage – the 20 minute-plus descent from Top of the World down to the waiting village below.
For the first time, this season the entire team was there – with both our junior riders, Pedro Burns and Dillon Santos, joining our elite regulars. Plus there was a special addition this time, as downhill legend Anne-Caroline Chausson joined the team in her first international race since her battle with cancer.
Robin Wallner continued his breakthrough season to take his best stage result of the year – a stunning second place on the second stage – the steepest and most technical of the day. Tricky stages on three and four meant that he lost precious seconds and found himself narrowly missing out on a top ten, finding himself in 11th. This was good enough for him to move up to 12th in the overall standings in the series, with his sights on a top ten overall this season with two rounds left to go.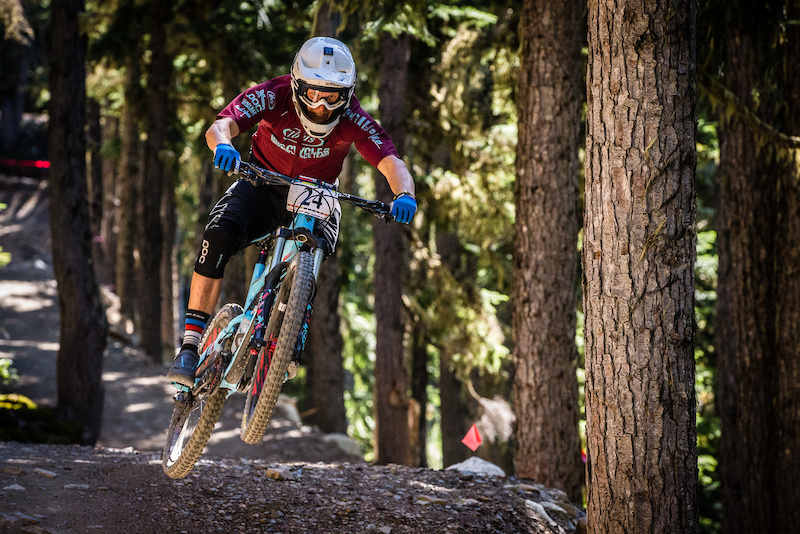 The twins both had consistent rides amidst the strongest field of the year. Anita took fifth and Caro seventh – which means they could hold onto their series rankings of third and fifth, respectively.
Gary Forrest made good progress on the long road back from his injury last year. A 20th place on the technically demanding stage four shows that the speed is there to be back at the sharp end of the field and his fitness is getting back to where it needs to be. Overall he finished 40th on the day.
Pedro Burns celebrated his birthday on race day, but unfortunately, it turned out to be a party to forget for him. He opened the day with a fantastic third place on the first stage, but a mechanical problem on stage two spelt the end of his day, a heartbreaking twist for the birthday boy.
Dillon Santos is learning fast, taking fifth place in only his fourth ever EWS round. The jump from racing local-level is a huge one, but he is proving that he can ride consistently throughout the day and learn fast.
Anne-Caroline Chausson's main goal for the weekend was simply to finish, a huge achievement considering what she has been through in the last year. She has been candid that her fitness is not what it was before, but a third place on the shorter, more technical stage four proves that her prowess at handling a bike on difficult terrain is not diminished. All of us at Ibis feel privileged to have been able to be there with her this weekend, to help and witness one of our sport's greatest champions in what was maybe one of the most important rides of her career.
What these collective performances added up to is greater than the sum of their parts, with the team once again securing second place in the team competition, solidifying our second place in the team standings. With two rounds left to go there is still a long way to go and we know that the fight will be fierce, but the team are going to give it everything in a push to defend what we feel is a stunning achievement for such a small team.
We need to thank Casey, our mechanic for this weekend, who flew in from the Ibis HQ in California to look after us. His late nights and meticulous attention to detail were every bit as important to our success as what happened on track – thanks, Casey!
With the dust now settled, it is time to head back for Europe. There are a few weeks now to recover, repair and ready ourselves for the final push of the season as we head into the final two rounds. See you there!
---
MENTIONS: @ibiscycles / @Anita1 / @Caro-DH