FOX Athletes at World Champs
Scotts Valley, Calif. – FOX—the ride dynamics company—congratulates its 2014 World Champions, Julien Absalon, Catharine Pendrel, Gee Atherton and Manon Carpenter for their gold medal performances in men's and women's elite cross-country and downhill events, respectively. Culminating a season that held all of the ingredients of a fabled storyline—old rivalries, heartbreak, technical brilliance and rising stars—the 2014 Mountain Bike World Championships in Hafjell, Norway did not disappoint.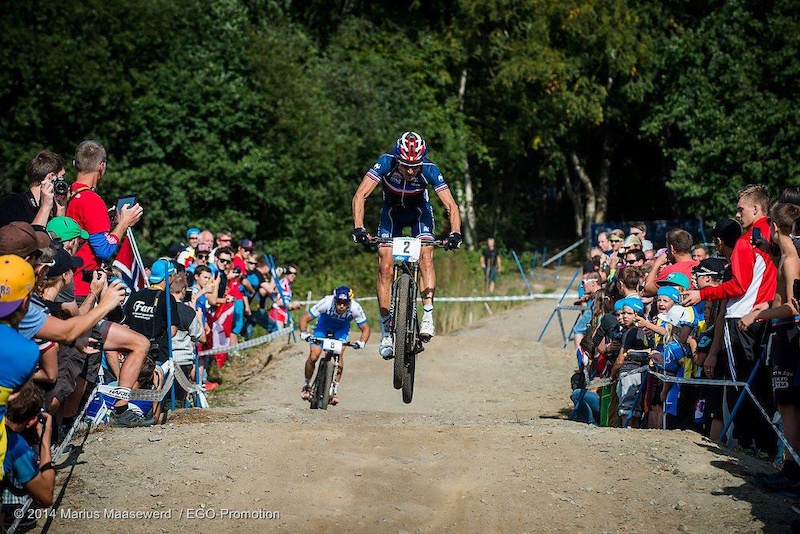 Julien Absalon and Catharine Pendrel Reclaim Rainbow Jerseys in Elite Cross-Country

In elite cross-country, Julien Absalon and Catharine Pendrel both regained their rainbow jerseys aboard their electronically activated, FOX FLOAT iRD-equipped bikes. Absalon chose to run a full-suspension bike for the first time in his career and it paid off as he opened up a gap on the fifth lap and never looked back. "I made a really good choice to use a full suspension bike because it is such a bumpy track, but it was a little risky because this was my first race with a full suspension bike," said Absalon. "So it was a risk, but a good one." This win is gives Absalon his fifth World Championship title; he also took home the 2014 World Cup Series title.

Pendrel took the lead from the start and held a comfortable gap until the last lap, when a front flat threatened her stand atop the podium. A lightning-fast wheel change in the pits kept her out front and she powered to the finish line for her second World Championship title. "I like to race from the front," stated Pendrel. "When there's an opportunity to take the lead you should go for it. That's always the kind of racer I have been. If you want to win the Worlds, you have got to be willing to take some chances and go out strong."




Gee Atherton and Manon Carpenter Take Home Top Honors in Elite Downhill 

In elite downhill, Gee Atherton took his second World Championship title and Manon Carpenter won her first aboard their bikes equipped with prototype FOX forks and shocks. The prototype program, dubbed FOX Racing Applications Development or RAD, serves as a proving ground for product development utilizing FOX's elite athletes. In an event typically won by hundredths of a second, small advantages can lead to big results–and clearly Atherton and Carpenter's RAD prototype forks and shocks delivered. Atherton was in second through splits one and two before putting the power down on the final leg to take the hot seat away from Neko Mulally, who had a brilliant run despite losing his chain in the first few feet of the course. Josh Bryceland was the last man down and was on a good run when he landed flat off a huge jump, breaking his foot and still managing to finish second.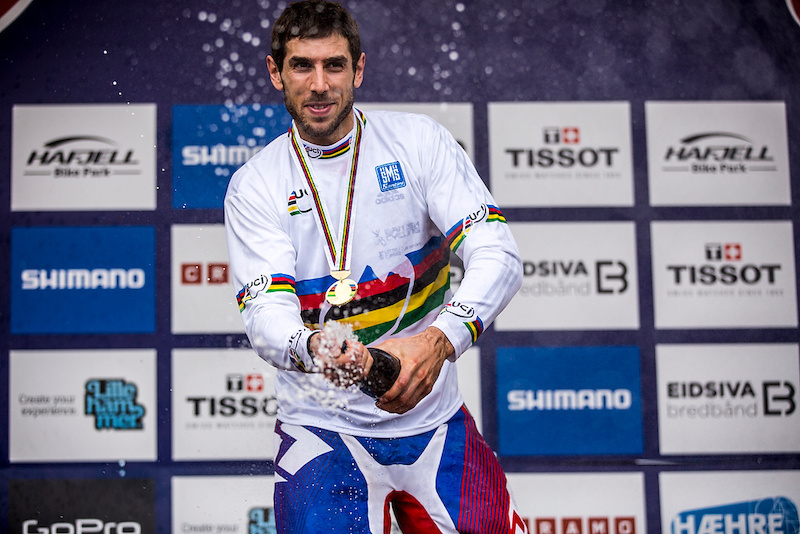 Carpenter was in the hot seat and just had to wait and watch top-seeded Rachel Atherton's run to know if she would get rainbow stripes to go with the World Cup Series title she earned a few weeks earlier. Rachel Atherton was up through splits one and two but ultimately crossed the finish line just 0.088 seconds off Carpenter's time. "I wasn't nervous before my run," said Carpenter. "I went out and attacked the course without holding anything back and it went exactly how I wanted."

"We are very excited and proud for our newly-crowned World Champions," said Mark Fitzsimmons, FOX race program manager. "It's gratifying to see our collective hard work pay off by taking all four of the top spots in XC and DH."




About Fox Factory Holding Corp. (NASDAQ: FOXF): Headquartered in Scotts Valley, CA, FOX designs and manufactures high-performance suspension products primarily for mountain bikes, side-by-side vehicles, on-road and off-road vehicles and trucks, all-terrain vehicles, snowmobiles, specialty vehicles and applications, and motorcycles. For more than three decades, FOX's team of enthusiasts and professional athletes has been improving vehicle performance through a unique commitment to redefining ride dynamics. FOX is a registered trademark of Fox Factory, Inc. NASDAQ Global Select Market is a registered trademark of The NASDAQ OMX Group, Inc. All rights reserved.
www.ridefox.com