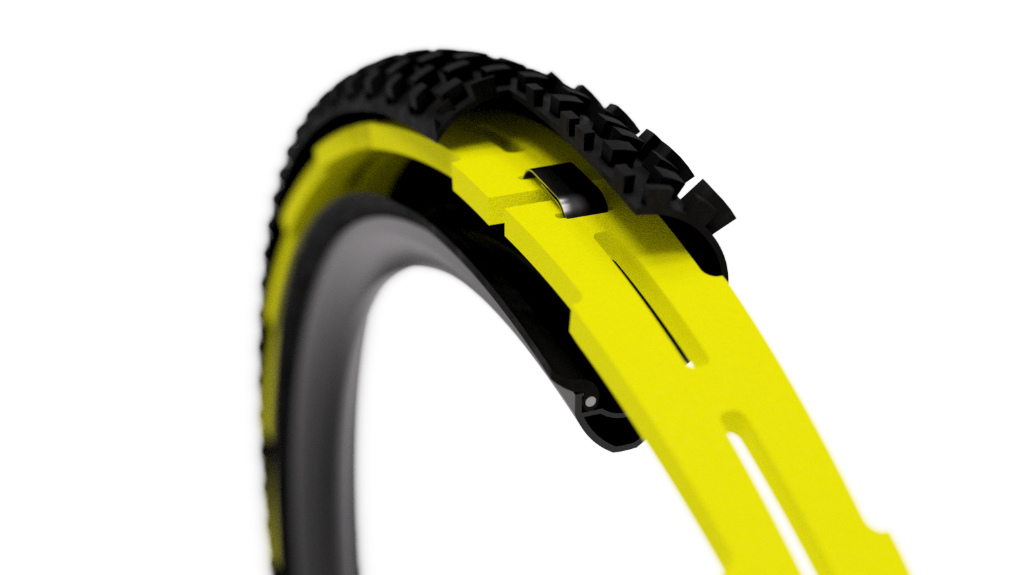 Occasionally, an idea comes across my desk that makes me scratch my head and utter, "Why didn't I think of this?" Huck Norris is one of those. Invented in Finland, Huck Norris is a circular band made from closed-cell plastic foam that is cut to fit inside the widest part of a tubeless tire casing. The band weighs less than an inner tube and, because it does not cling to the entire circumference of the tire casing, it allows a tubeless tire to remain supple and does not impede its superior rolling resistance and traction.
The potential benefit of the Huck Norris band is reaped when impacts that are normally severe enough to bottom the tire onto the rim flanges and produce pinch flats, sidewall cuts, or dented rims – are cushioned by the foam band and rendered inconsequential. But wait! There's more. An unexpected benefit of Huck Norris protective bands, is that they spread the beads of tubeless tires apart, which allegedly makes even the most difficult rim and tire combinations mount up easily with a simple floor pump. The bands are available to fit 29, 27.5 and 27.5+ size tires, and cost 69 Euro at the Huck Norris web store. Read the Huck Norris press release below. – RC
---

| | |
| --- | --- |
| | Huck Norris is the fellow inside your tire to fight off the Bruce Leaks. It also scares off snake bites and nasty dents. He's your buddy to inflate the tubeless tires, giving extra kick to the tire when you want to punch it on your rims. – Huck Norris PR |
Huck Norris joins the fight against pinch flats!
We got fed up replacing our tires before they actually wore out. Also, we got fed up ending our race runs with flats. We do racing because it's fun, and racing on flat tire isn't fun anymore. We think that in the year 2016 riding should be puncture free. We have seen even the pro racers ending their race runs with punctures. This is something what should not be possible these days with modern technologies present. We wanted to take the bull by the horns and develop simple solution to prevent punctures. In the end we realized that we have resolved a bigger issue – the hassle of inflating tubeless MTB tires.
Huck Norris is a cellular foam which goes inside your tire. It sits in the middle of the tire and touches the sidewalls only a little so you don't miss any of that sweet rolling ability of your tire. When you are about to get a puncture, the Huck Norris is between the tire beads that are folding together. Huck Norris creates an extra cushion to your tire. This protects your rims and your tires. The good thing is that you don't need to modify the rim or the tire. It's an affordable solution to make your rides longer and save you money.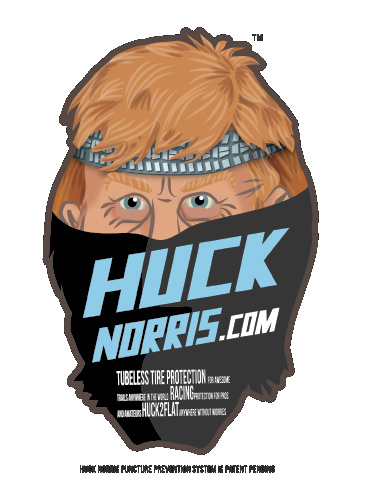 What Huck Norris Does:
• No more punctures in tubeless MTB setup
• No more nasty dents to your rims
• No more hassle with tubeless setup
• No modification to your rim or glue needed
• No need for compressor to install tubeless anymore
• No need to over inflate the tires to avoid punctures. Use the pressure you want!
• No more downhill tires on trail bikes
• More fun with tubeless MTB!
• Sizes: 70g (27.5″) 77g (29″) weight
• For 21-45mm internal rim width, 27.5 and 29" wheels and Plus size tires.
• Fatbike version coming soon.
• Material specially developed for MTB use.
• Three times the impact energy damping than anything commercially available.
• Package includes a fender
• Made in Finland. Patent Pending.
• MSRP: 69 Euro
• Contact:
Huck Norris

Watch Their Homemade Video

Click here for more information about Huck Norris.