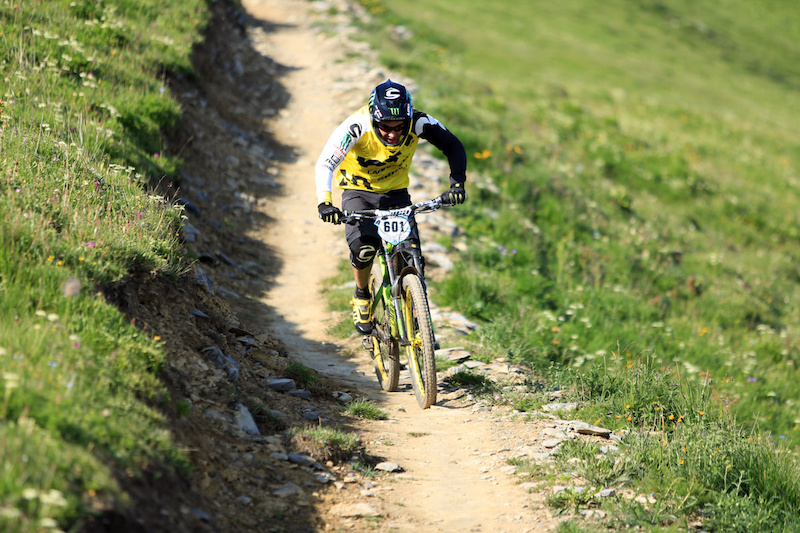 When flipping through last years Enduro Word Series results one name certainly jumps out: Jérôme Clementz! No one dominated the Enduro World Series in 2013 like the friendly Frenchman.
To continue with his success, Jérôme has signed with the Bavarian label Bliss Protection for the upcoming season. With his victory at the at the EWS stop at Val d'Isere, the current Enduro World Series champion was announced before rolling out of the start gate at the last Enduro World Series at Finale Ligure. This event proves Jérôme´s outstanding dominance in the current Enduro racing sport. No one else is as fast as the young Frenchmen from a little village called Buhl.
Enduro racing is a fast growing sport with a huge progression. As a result of this, the current Enduro race tracks are becoming more like the downhill tracks that we are used to. So it is no wonder that the athletes who compete at these action packed races end up over their handlebars from time to time. So, Jérôme is in need of body-armor which gives him as much protection as possible without limiting his freedom of movement and allows him to send it full throttle. That´s the reason why Jérôme Clementz has signed with Bliss Protection who are known for their super thin, flexible, breathable and high functional body-armor.
"With this sweet Bliss Protection I feel safe and can let the brakes go. I'm ready to shred! Thanks Bliss for your support" Jérôme Clementz official Facebook page.
Together with his countryman Nico Lau, Jérôme is the leader of the Bliss Protection Enduro Race Team, so stay tuned for the upcoming race season as there might be some very exciting in-house battles between these very fast Bliss team riders at 2014´s Enduro World Series.
Related articles across the web