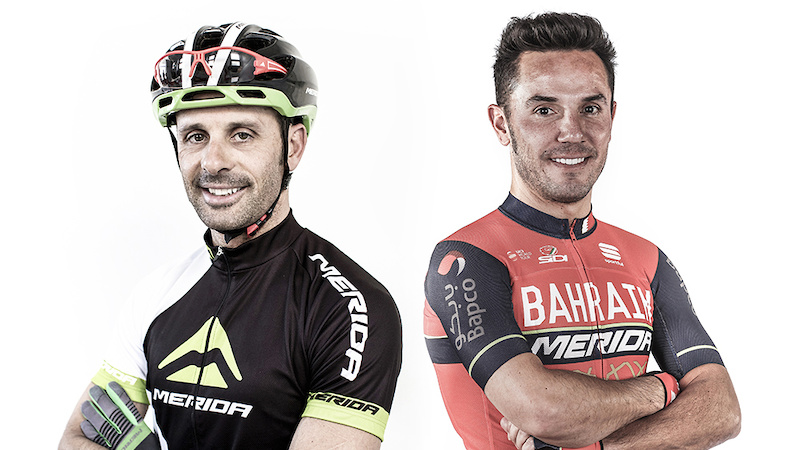 Two giants of the cycling world will form the high-powered Merida Factory Racing team to leave their mark on the 2017 ABSA Cape Epic. José Antonio Hermida and Joaquim Rodríguez (Purito) have shared many training miles over the years so now that both riders have stepped back from the world of UCI World Cup Racing and the professional road racing world respectively, new challenges have been bubbling away in the back of their minds.
Former Mountain Bike World Champion, José Antonio Hermida, is no stranger to the ABSA Cape Epic and has been a prominent figure in the world's biggest stage race. José has managed to secure a number of stage wins and top positions in the grueling event and belongs to the prestigious 'Amabubesi' (translated: pride of lions) finisher club. Only riders who have finished the Cape Epic at least three times can call themselves members of the 'Amabubesi'.
With an endless list of wins in some of the most prestigious and demanding road racing events in the world, paired with a natural ability to suffer just that little bit more, and his renown bike handling skills, Joaquim Rodríguez is the ideal partner for José in this new adventure. Joaquim finished the 2016 Tour de France in 7th position, demonstrating impressive strength even in the later part of his career.
Joaquim Rodríguez, although officially retired from the world of road racing, has taken on an active role in sharing his experience and knowledge with the younger and less experienced riders of the Bahrain Merida Pro Cycling Team and will accompany the team to most of the races of the 2017 season while still keeping his fitness at the highest level.
The Spanish pair have been training partners for years and the combination of their physical ability, their friendship, and the undeniable fighting spirit should make them an interesting pairing to watch over the duration of the Cape Epic.
The team will be wearing a unique design of the Bahrain Merida Pro Cycling Team jersey and will be equipped with one of the most capable stage racing bikes of today. Both riders will tackle the event aboard the superlight and hugely capable full carbon Ninety-Six Team. The lightning fast full suspension bike will offer the perfect combination of agility, comfort, and traction and will be specced with the latest equipment.
"This year the ABSA Cape Epic will be a particularly exciting event for me and for Purito as my team mate," says José Antonio Hermida. "We have another high profile team in the event in George Hincapie and Cadel Evans. It will be my job to attack Cadel, while Purito will concentrate on keeping George under control," José comments laughingly. He continues, "I, in particular, am very excited to be back after having a break for a coupe of years. The event itself, the organization, the other riders and the general spirit of the event have always treated me well and I am looking forward to going back. Especially after my retirement from the realm of World Cup cross country racing, I can put more effort into racing marathon and stage races. However, joining a new team setup (with Purito on my side) where I have to 'guide' a rider who has not yet been part of this event, will be an extra challenge. We have high expectations and are highly motivated—even without having any specific targets, we hope that we can leave our mark on this great event."
Joaquim Rodríguez contributes, "I have had a fantastic start working with the Bahrain Merida Pro Cycling Team and I am looking forward to getting involved in one of the biggest mountain bike events in the world. I am highly motivated and appreciate the opportunity to team up and learn from José, one of the top mountain bike racers in the world. Our goal is to perform at the highest possible level, and our recent physical shape should put us in a very competitive position. But above all, we want to have fun and enjoy this new adventure."