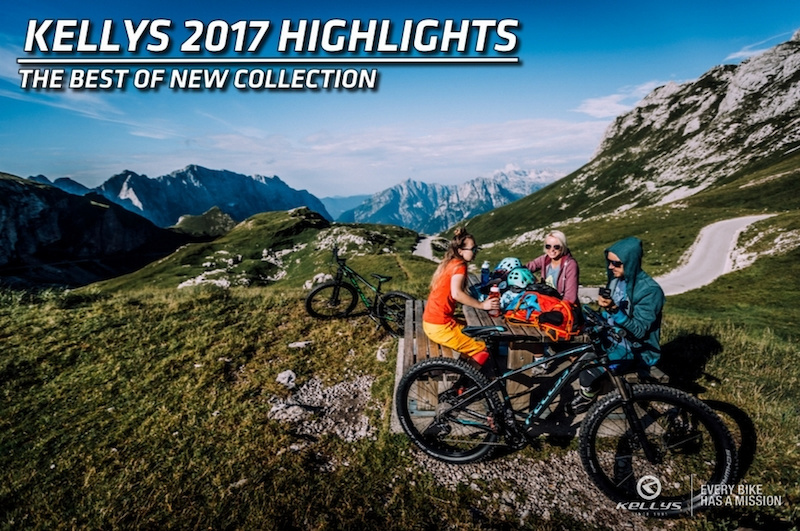 KELLYS COMES INTO 2017 SEASON WITH EXTENDED COLLECTION OF BICYCLES, ACCESSORIES AND CLOTHING. BICYCLE RANGE WITH ABSOLUTELY NEW ROAD BIKE PLATFORM, 27.5+ TRAIL HARDTAILS AND ENDURO E-BIKE AMONG THEM, REVISED SPECS OF WELL KNOWN MODELS, NEW COLOURS, NEW MATERIALS AND NEW SMART IDEAS WERE CAREFULLY PREPARED TO MAKE THE UPCOMING SEASON UNIQUE FOR THE RIDERS.
---
NEW URC
---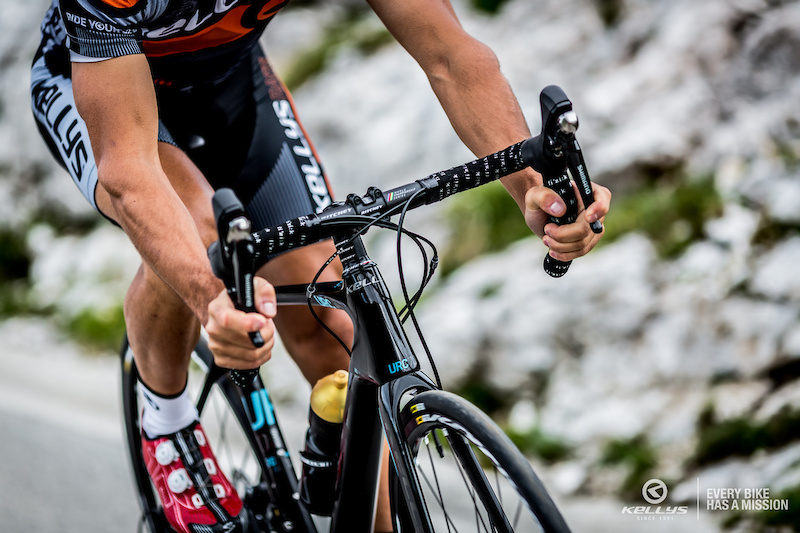 Absolutely new URC comes with new frame, specs and better performance.
Awaited new URC finally has come with absolutely innovative carbon frame and up-to-date specs available with disc or rim brakes option. The previous URC is a very successful road racing bike, valued for its lightness, precise handling and top performance in peloton. While designing new platform Kellys R&D engineers set the bar much higher to make new URC even lighter, stiffer and faster. To achieve this, they implemented Power Core Design which is based on combining material characteristics with specific shape to create strong and uniform structure while maintaining low weight. With the top grade high-modulus carbon fibres from Boeing supplier, extensive mechanical simulations and researches, Kellys engineers came up with stress-optimized shape of the frame using the same blend of carbon fibres for the whole frame, to keep the structure homogeneous, without any insertions of different fibres or materials used by other brands. One of the most advanced and time-consuming shape optimization in bicycle industry allows engineers to prevent any impurities or irregularities across the frame material, which could cause strength decrease and weight issues.
The Power Core represents the extended structure from head tube, through down tube and bottom bracket to chainstays and rear dropouts. Thanks to high lateral and torsional stiffness, the Core is responsible for precise handling, high speed stability and ultra-efficient power transfer, and it is lightweight. With 890g (rim brake) and 930g (disc brake) the frame of new URC is one of the lightest on the market, providing top-of-the-line weight to stiffness ratio.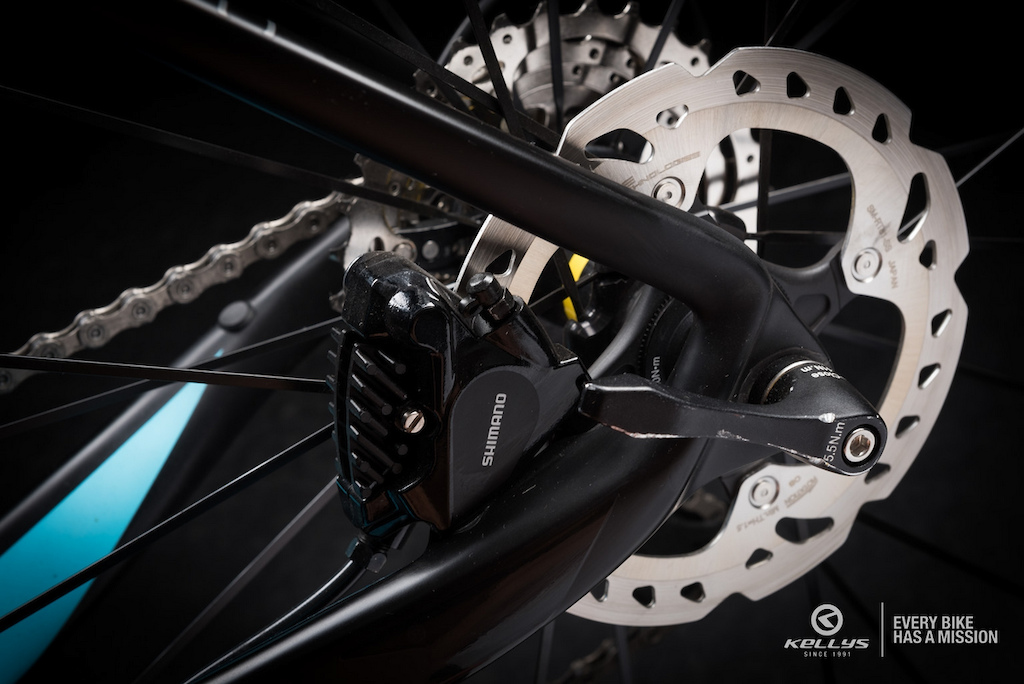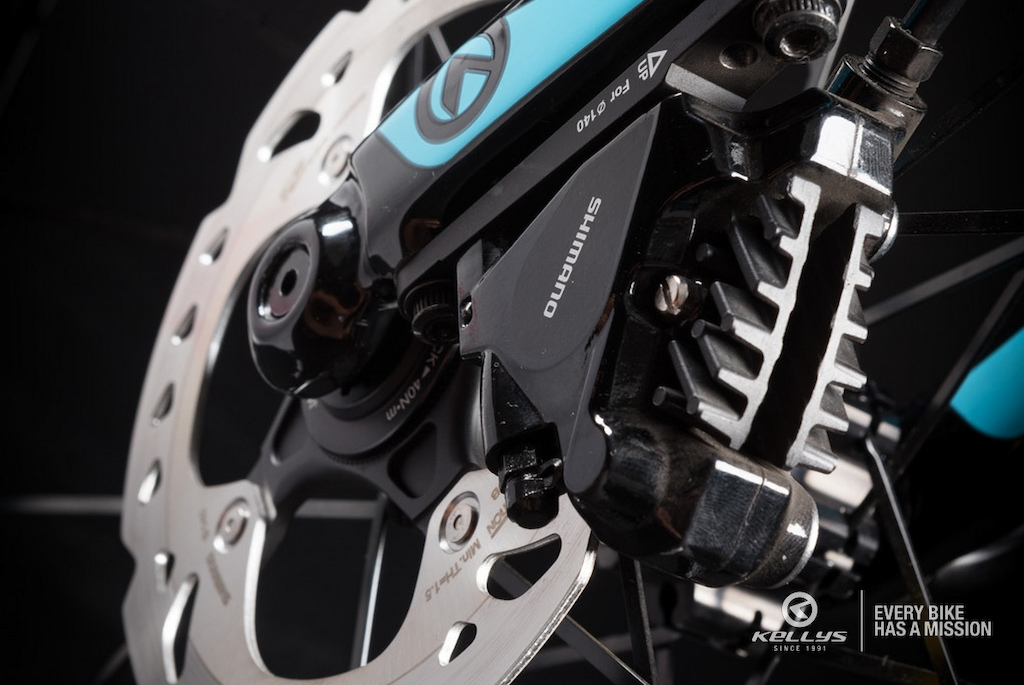 Thanks to extended wheelbase and revised geometry, the new URC gained better high-speed/descending stability without sacrificing any of its predecessor's agility and reactivity.
For best compatibility with top road equipment, the new URC uses the latest standards as full Di2 ready internal cable routing, press-fit BB, rigid thru axles with brake callipers flat mount (disc brakes), front and rear derailleur (with safe hanger) direct mount, rear rim brake calliper mounted under bottom bracket.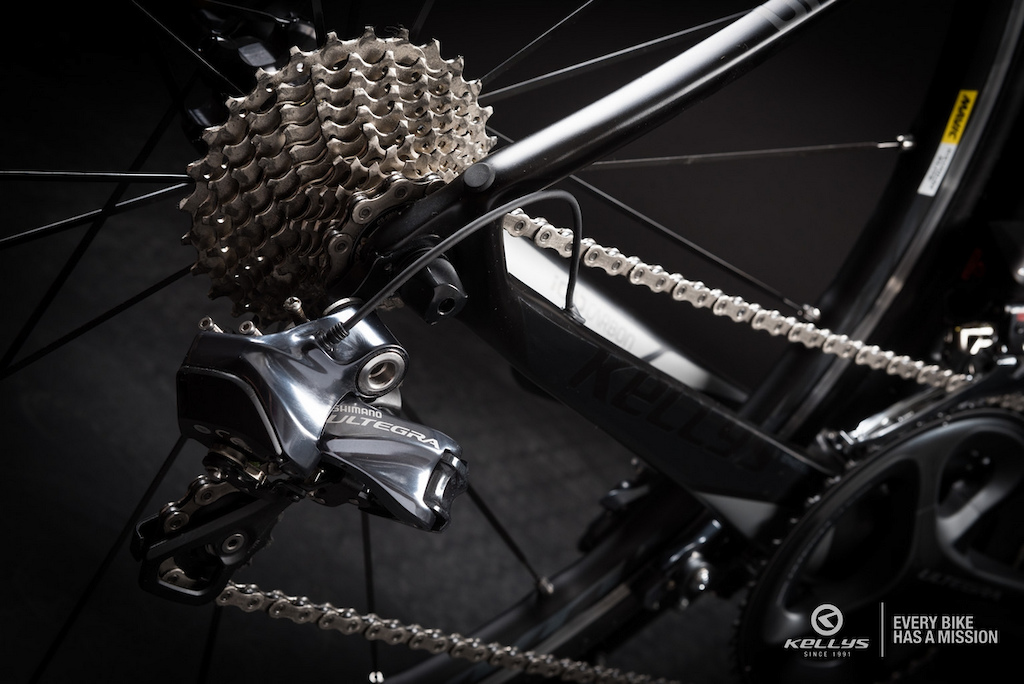 The new URC comes in four specs with distinctive paintings, Shimano Ultegra Di2 drivetrain, Mavic Ksylium Elite wheelset and Ritchey WCS carbon cockpit on the top.
---
New URC features:
– iCAD RC carbon composite with Power Core high efficiency design,
– high modulus Toray T700 / M40JB carbon fibre composite,
– monocoque / tube to tube handcrafted,
– fully Shimano Di2 ready,
– frame-protecting rear derailleur hanger,
– flat mount disc brake callipers & thru axles (disc brake type),
– full internal cable routing with aero optimisation,
– tapered head tube & press-fit bottom bracket.
Rim brake version is equipped with Di2 drivetrain along with direct mounted brakes.
---
MOBSTER 27.5+
---
In 2017 season Kellys comes into the 27.5+ bicycles segment. The new Kellys MOBSTER is an all-round mountain scrambler with trail-optimized geometry and equipment. Thanks to wide 38-milimeter rims with 2.80" Schwalbe Nooby Nic Performance tyres our new 27.5+ hardtail is almost unstoppable and able to roll over almost any obstacle on its way. In addition to excellent grip, high volume tyres provide greater comfort and increase off-road abilities to absolutely new level. New MOBSTER allows you to shred the most difficult trails with ease and smoothness that cannot be beaten by any narrow-wheeled MTB.
New MOBSTER's triple-butted aluminium alloy frame with Boost thru axles is lightweight and stiff, providing efficient power transfer and precise handling. Thanks to the shortened rear and extended front triangle, spacious cockpit with the slopped top tube, the MOBSTER is nimble and confident even on the steepest descents. New frame also utilizes up-to-date standards as direct mounted derailleurs and rear brake calliper, tapered head tube and semi-internal cable routing.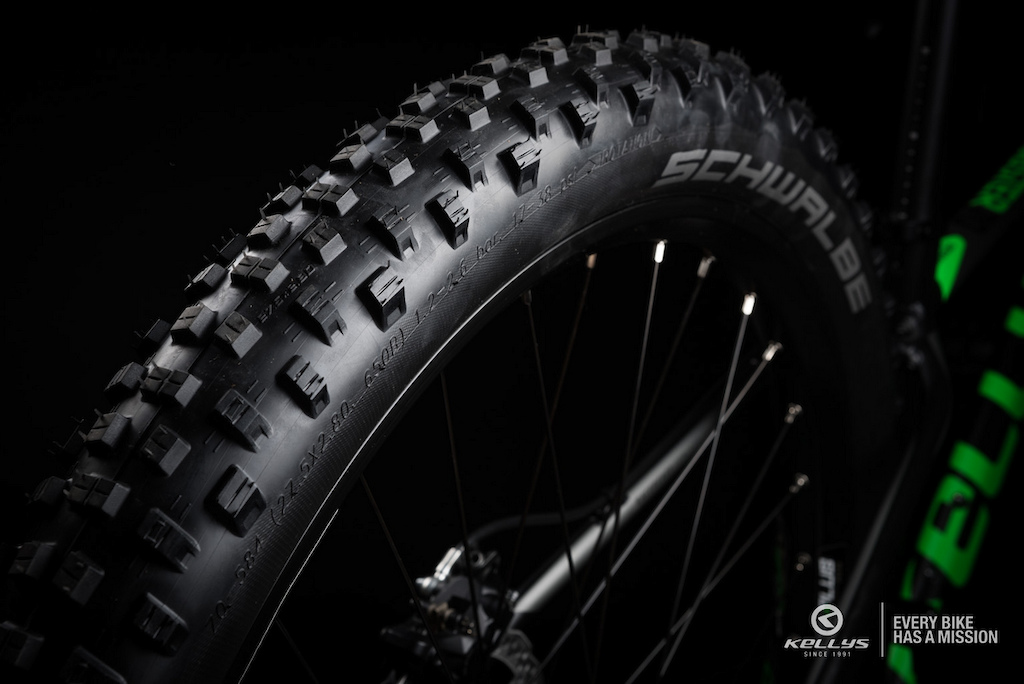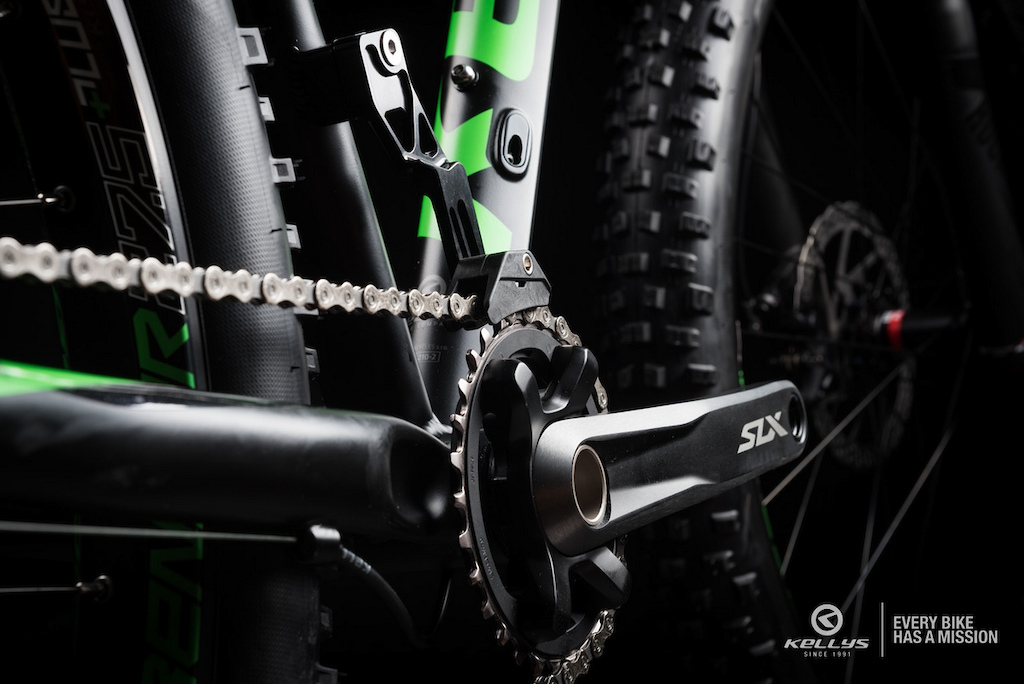 For 2017 season Kellys introduces two specs of new 27.5+ bike. MOBSTER 70 with 1×11 Shimano SLX drivetrain equipped with chain guide and Rock Shox Revelation with 130mm of travel is addressed to advanced trail enthusiasts, while MOBSTER 30 with 2×10 Deore/SLX drivetrain and 120 mm Rock Shox Recon offers great all-round capabilities for better touring experience. Both models are set with effective Shimano brake system with 180mm or 160mm rotors, which make MOBSTER ready to stop in every situation.
---
MOBSTER 27.5+ features:
– absolutely new way of mountain cycling with great off-road capabilities, ease and comfort,
– easy rolling, high volume 2.8" tyres,
– efficient and reliable 1×11 or 2×10 drivetrain,
– lightweight and stiff frame with progressive geometry,
– effective Shimano brake system.
---
THRILL 27.5+ E-ENDURO
---
The truly electrifying novelty in Kellys 2017 bicycle range is the THRILL, an enduro 27.5+ e-bike with plush suspension, powerful and lightweight Shimano Steps E8000 drive unit along with all the features modern enduro bicycle needs. Thanks to boosted thru axles, wide and grippy 2.80" tyres, Rock Shox suspension component with 150mm spaced Pike RC fork, virtual pivot rear end and Shimano XT drivetrain, the THRILL provides full enduro capabilities with absolutely new uphill experience.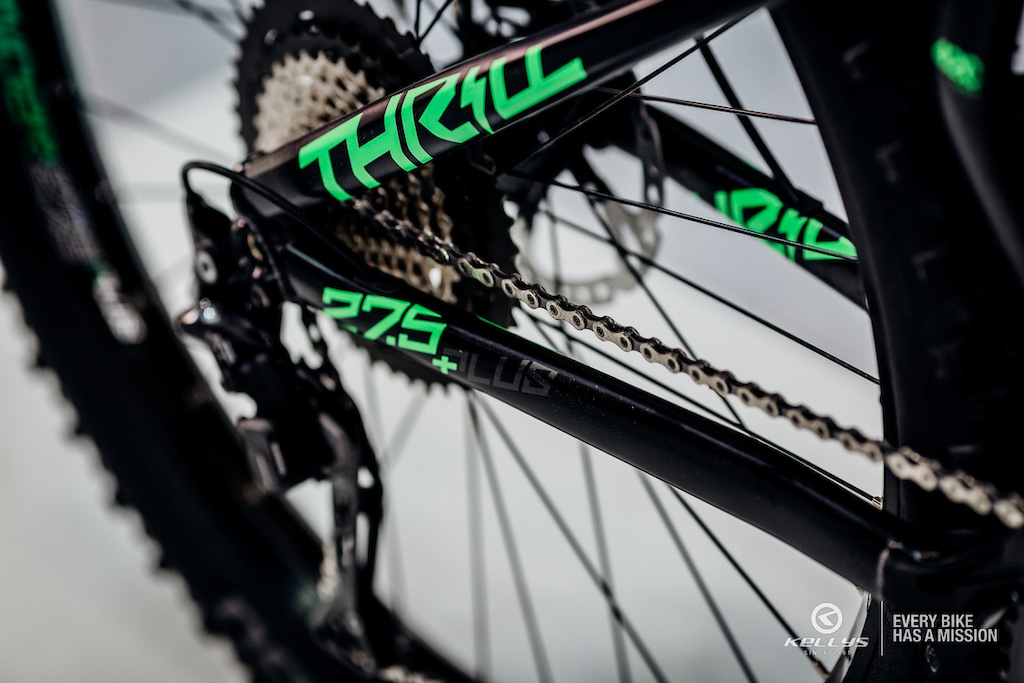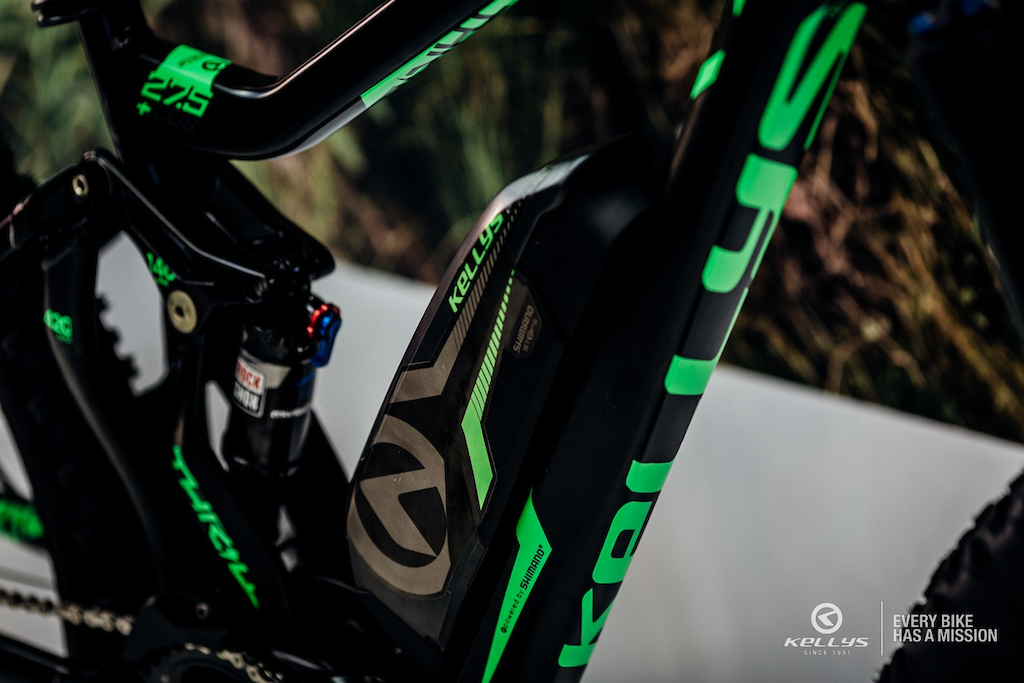 The THRILL's drivetrain provides top weight-to-power ratio with compact size and durability. Thanks to unique MTB-optimized design of Steps E8000 unit, the up-to-date geometry of the enduro bike stays untouched. In contrast to other drive units, the THRILL's Q factor remained unchanged, providing cornering clearance and trail performance of the non-electrified bikes. Steps E8000 unit stays as low as possible to keep low centre of gravity for better handling and agility during cornering. Thanks to water and shock resistance, the power source of THRILL with 500Wh battery is long-lasting, robust and ready to take the most difficult mountain challenges.
To make the rider feel the real enduro THRILL, Kellys engineers' main goal was to create the geometry and performance of the top enduro level with additional uphill capabilities. Wide and spacious cockpit, easy-rolling 2.80" tyres, efficient Shimano XT brakes and dropper seatpost make the THRILL sterling enduro unbeatable on the uphill. The THRILL is the real joy machine, able to hit the hardest and steepest trails without sweating while going to the top of them.
---
THRILL features:
– Shimano Steps E8000 durable, lightweight and powerful drivetrain,
– Shimano XT derailleur and brakes for top in-mountain performance,
– non-electrified enduro bikes geometry for the best enduro experience,
– plush suspension based on the Rock Shox components for best comfort and handling,
– full enduro equipment with dropper post and wide cockpit,
– easy rolling and grippy 2.80" Schwalbe Nooby Nic tyres.
---
BACKPACKS
---
New LANE and FETCH mountain backpacks were created to fulfil every mountain biker's needs in terms of design, capacity, carrying systems, materials and durability. Full of smart pockets to carry everything mountain bikers need: helmet (even full face), protection pads, tools, goggles/glasses, water bladder (up to 3 litres) and many, many more. Thanks to 3D foam padded back panel and shoulder straps, even fully loaded LANE is easy to wear providing excellent ventilation and support to keep rider dry and comfy during all-day riding. Made of ripstop 210D nylon fabric with hydrophobic PU coating and integrated rain cover, LANE is extremely durable, weatherproof and always ready to go.
---
GLOVES
---
For 2017 season Kellys introduces new line of gloves with comfort-oriented cut, quality materials, fashionable design and colours. HYPNO, RELIC and FLOW are airy, lightweight and ergonomically shaped with gel padding in high-pressure zones. New gloves are made of advanced synthetic materials providing ripping resistance and high thermal comfort. Clarino is one of them. It is fully washable and retains its softness when wet, unlike natural leather. Kellys designers also used the AX Suede, the polyester material designed especially for gloves. Thanks to high strength, durability and great wet adhesion abilities this material gives our new gloves the best performance possible and provides the riders full control of the bicycle. Cycling gloves are not only about comfort, but also about safety and protection: the reinforced panels and heavy duty seams make them always ready to protect rider's hands.
---
MENTIONS: @KellysBicycles