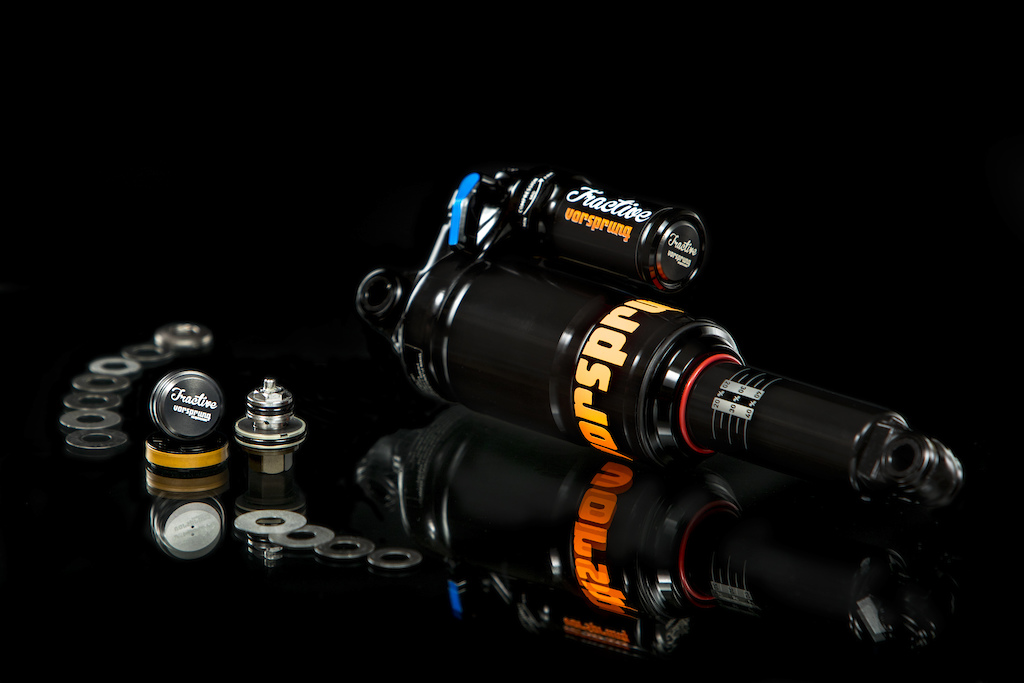 TRACTIVE Valve Tuning System
Chapter 1: Rockshox Monarch Plus
"Begin with the end in mind." – Stephen Covey
In 2011, before the company even officially existed, Vorsprung founder Steve Mathews had begun work on what went on to become the Tractive Valve Tuning System. Rather than being a single physical part or mechanism, Tractive encompasses the single most comprehensive and consistent method of damper tuning ever seen in the mountain bike world. Working with engineers from one of the world's foremost mathematical computing companies, we have developed a truly one-of-a-kind system – and this particular kit is only the beginning. Big claims, we know. What sets Tractive apart?
Tractive is a process, not just a part.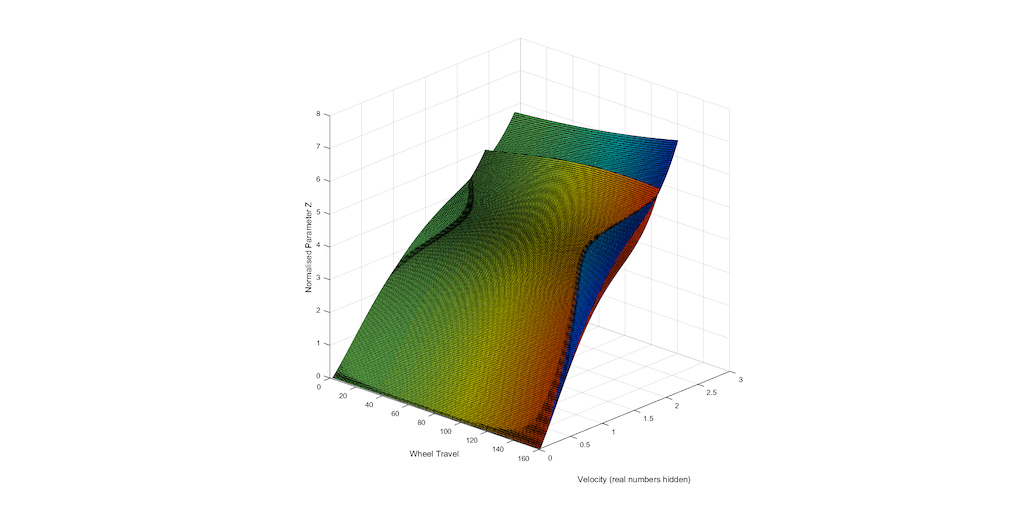 Process
The process begins with the end result that we are trying to achieve with a particular damper curve – it must provide 
sufficient, but not excessive
 resistance to compression and extension, in proportion to the rider's demands.
How do we define and measure this correct amount? It needs to be measured at the wheel – the only place that matters. But direct measurement of forces and velocities at the rear wheel are very difficult to make – especially when the leverage ratio between the axle and the shock is constantly changing. And is the rider a timid 45kg (100lbs) woman, or a hard-charging 140kg (300lbs) hulk of a man, or someone more "average" in stature?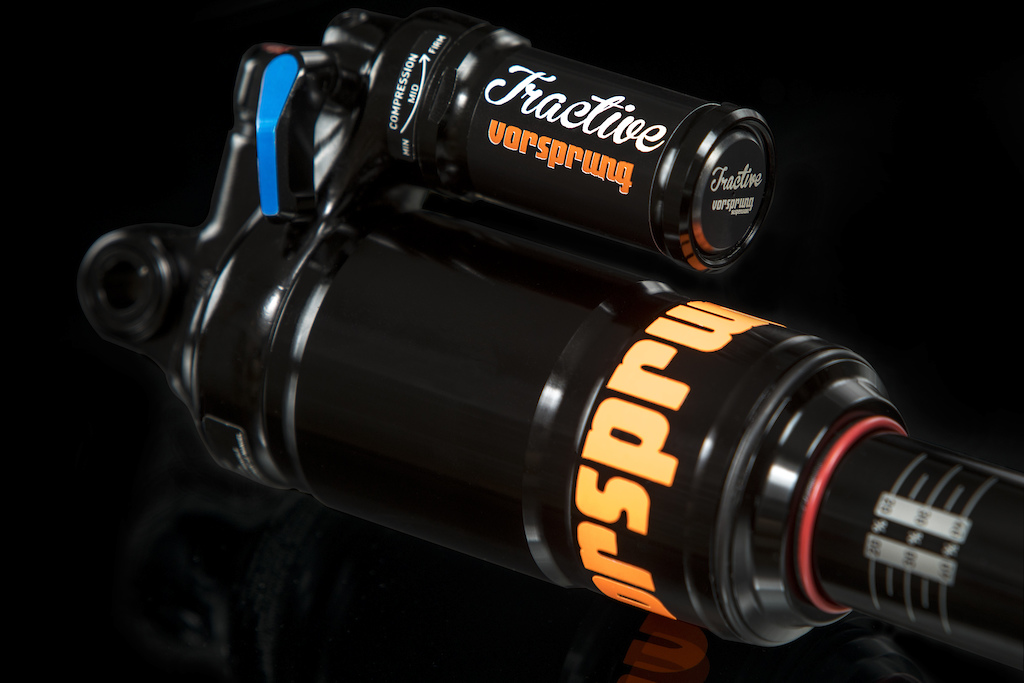 Our 
Elite Partner Tuning Centres
 around the world now have access to our proprietary, cloud-based Tractive Valve Tuning System calculation software. This software lets the tuner observe the true response at the wheel when considering the rider's weight, the bike's leverage rate and the damper curve generated by a specific tune.
Unprecedented Tuning Advantages:
• Direct comparisons can be visualised between any riders, on any bikes, with suitable benchmarks established and repeatably matched – an industry first.
• Our ever-growing database and the ability to directly compare two scenarios like this gives us an unparalleled ability to analyse and summarise feedback over time.
• Benchmarks are able to shift locally to reflect the different terrain demands in different parts of the world
• The combined experience of your local suspension tuner and Vorsprung's own expertise can be leveraged to get you the best out of your shock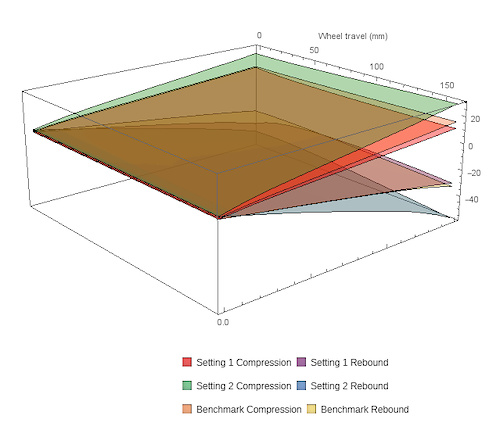 With 
Tractive
, you directly benefit not just from Vorsprung's knowledge, but from the collective experience of all of our 
partners around the world
.
Tractive Valve Tuning Systems are built with the following approach:
– Damper architecture weaknesses and problems identified and improved upon with upgrade parts
– Damper tunes selected to be the most suitable custom valving for the rider, frame and terrain
– Damper adjustment ranges and modes altered if necessary
The first shock to receive the Tractive treatment is the Rockshox Monarch Plus.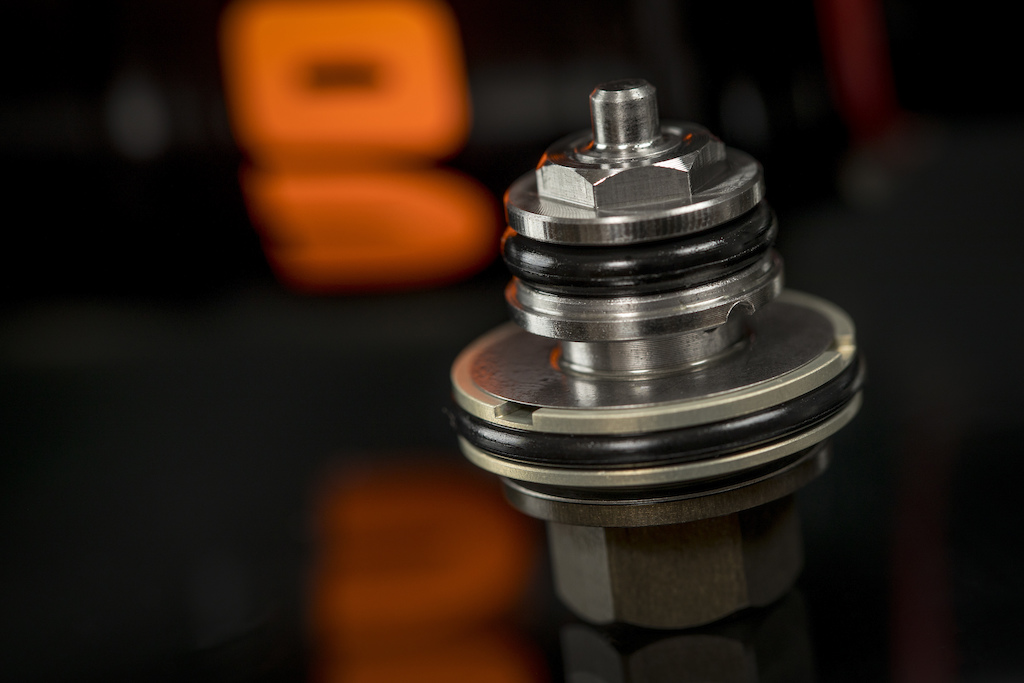 Features and Benefits:
– Improved support
– Superior stability and predictability
– Improved compliance
– Improved grip
– Upgrade compression base valve assembly with triple circuit technology
– More usable 3-position compression adjuster with evenly spaced settings
– Pressure-balanced valving to provide sensitivity and support without cavitation
– Low friction Acetal IFP to replace the stock metal IFP which scores the reservoir bore
– Custom Tractive Valve Tuning System tune selection for each rider based on frame, weight, terrain, aggression and preference
– Customised rebound valving to replace the stock non-functional rebound shim stack
– Over 140 possible valving combinations for this shock alone
– Nitrogen charged via low-profile reservoir end cap
– All upgrade parts developed, tested and machined by Vorsprung in Whistler
– Internal alterations to reduce the typical knocking during direction changes
– Recommendations on spring pressure and volume spacer alterations if necessary.
Who is the Tractive Valve Tuning System for the Monarch Plus NOT suited for:
– Riders who already exceed the maximum rated air pressure of their shock. You need a different shock, sorry!
– Riders who want a firmer-than-stock lockout. The Tractive system offers a firm compression mode rather than a lockout for climbing traction, but if a lockout is non-negotiable, you'll want to look elsewhere
– Riders who want to service their damper at home. The Tractive kit for Monarch Plus is not available for self-install or self-service as it requires both a vacuum bleeder and a nitrogen charging system to install.
– Riders who are using the Monarch Plus on a frame that is excessively progressive or otherwise completely unsuited to air shocks. These will work better with a coil shock.
Pricing:
Tractive Valve for Rockshox Monarch Plus – $320CAD including full service and installation.
Making a Monarch Plus a Tractive
The Tractive kit for the Monarch Plus is not available for self-install, so you'll need to send your shock in to Vorsprung in Whistler, or to one of our Elite Partner Tuning Centres.
Vorsprung is actively seeking elite-level partners around the world, as well as dealers for user-installable parts – if you'd like to work with us, get in touch.
What's next
More tuning systems for shocks and forks. Here's a little teaser of some Fit4 kits which will be available mid January.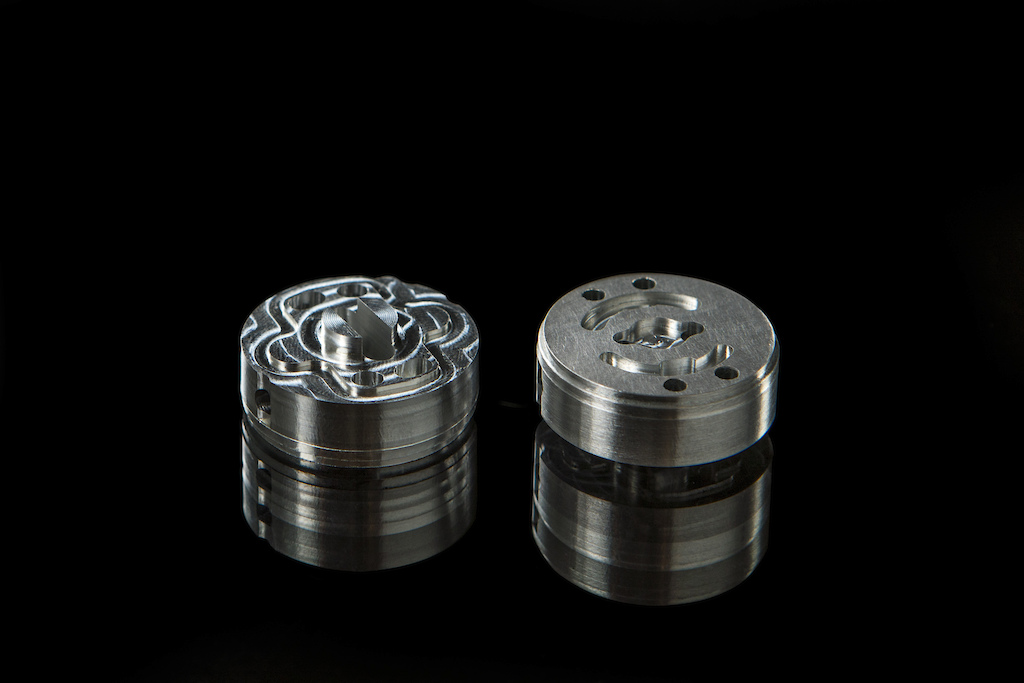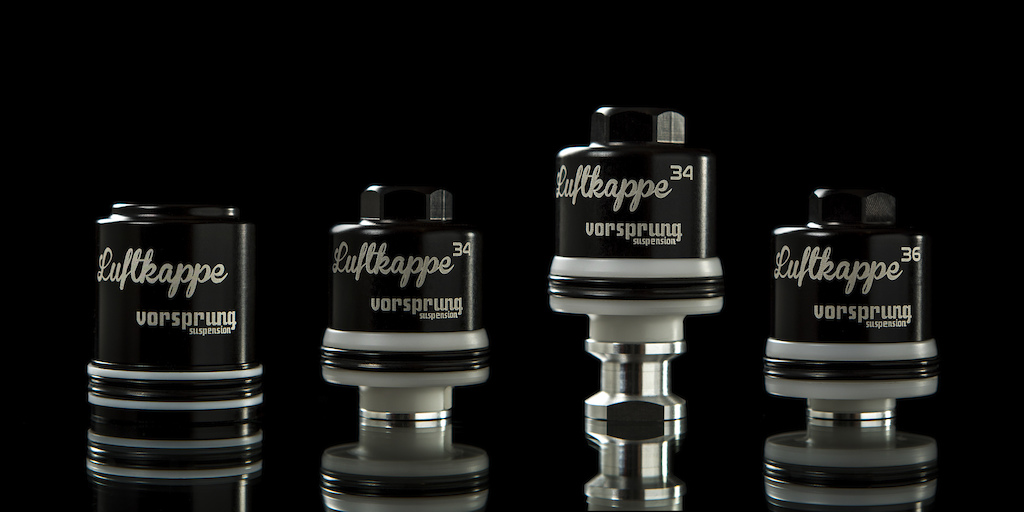 LUFTKAPPE V2
Fox 34/36 Evol & 34NA2 & Rockshox Pike Debonair 2018+
When we launched the Luftkappe for the Pike, Lyrik and Yari 12 months ago, we were floored by the response – the entire first run sold out within 48 hours of release, and we've battled just to make enough of them over the past 12 months. The overwhelmingly positive feedback we got, along with customer demand, pushed us to offer the same kind of upgrade for other forks. We now have four new Luftkappes on offer, all of which are available for self-install. As always, the goal for these was simple: the biggest improvement in how much fun your bike is, per dollar spent.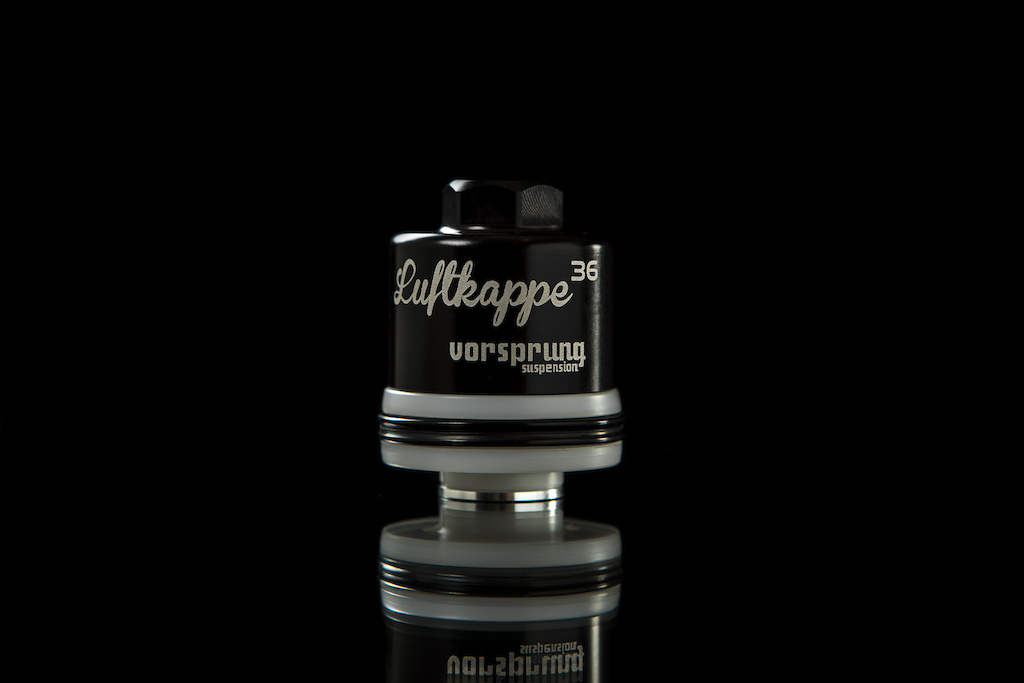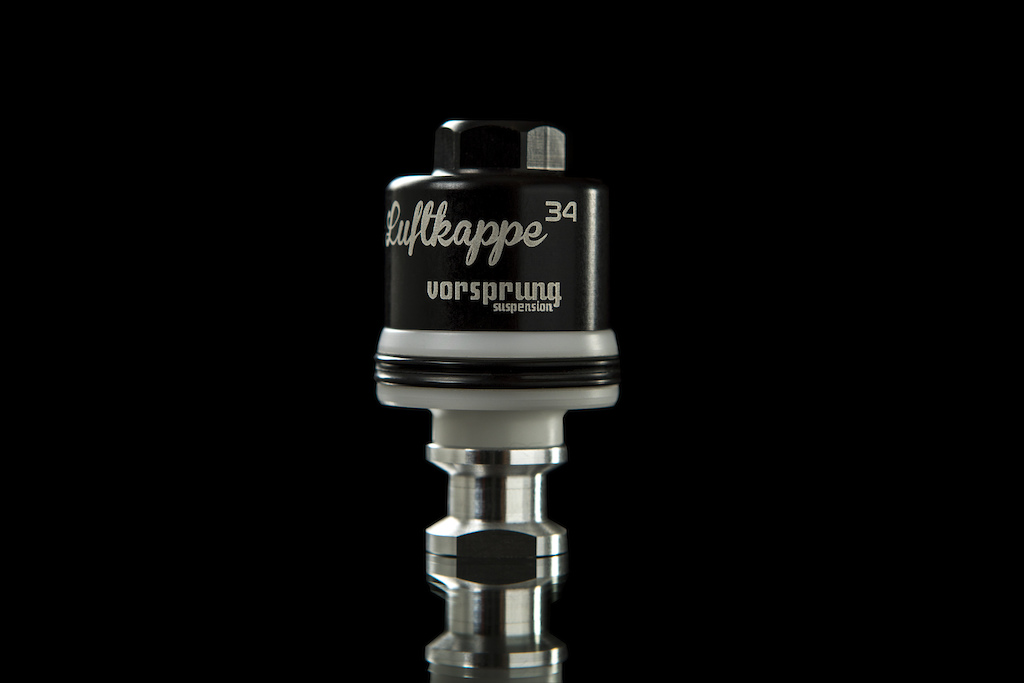 The New Kits:
Shipping immediately:
36 Float Evol (2018+)
: includes Luftkappe piston assembly. MSRP $105CAD ($83USD approx).
34 Float Evol (2018+)
: includes Luftkappe piston assembly. MSRP $105CAD ($83USD approx).
34 Float NA2 (2016-17)
: includes Luftkappe piston assembly as well as new low-friction, low-profile sealhead. MSRP $130CAD.
Shipping as of December 15th:
Pike Debonair (2018+): includes Luftkappe A1 piston assembly + adaptor for 2018 Pike forks (except 29+ wheel size). MSRP $100CAD ($79USD approx). Referred to as A2 variant. Available for pre-order immediately.
Continuing Kits:
Pike/Lyrik/Yari A1 version: fits 2014-17 Pike Solo Air, 2018 Pike 29+ Solo Air, Lyrik/Yari 2016-18+ Solo Air and Debonair
Optional tools are also available for self-install.
Unfortunately, we do not currently offer a Luftkappe for the 2015-17 36 Float NA.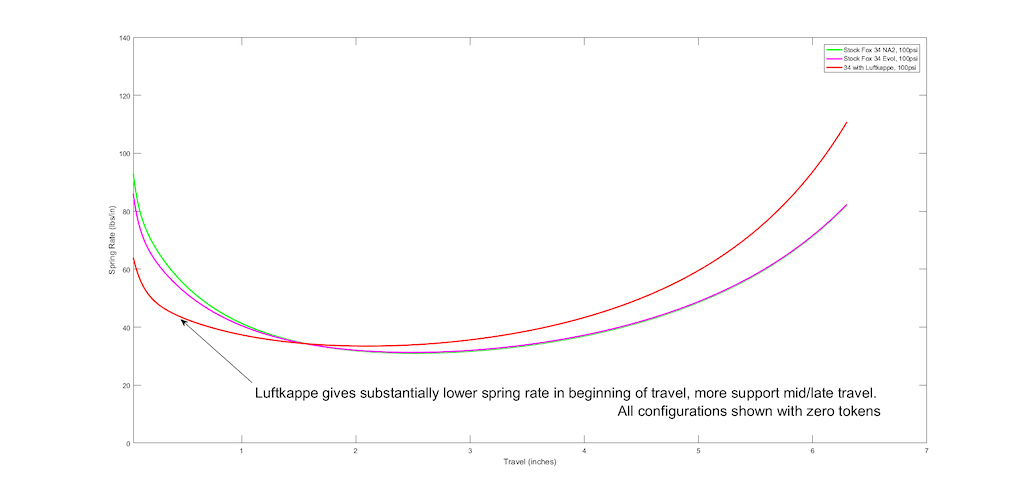 What The Luftkappe Offers:
– Softer initial stroke
– Larger negative air chamber
– Increased sag without the associated diving
– Coil-like initial and mid-stroke spring rate without the excessive bottoming of a truly linear spring
– Increased sensitivity
– Improved mid stroke support and control
– Superior bump compliance and traction
– Reduced hand fatigue
– Reduces required compression damping
– Retains volume spacer compatibility
How it works
It enlarges the negative air chamber to reduce the initial spring rate and increase the mid-stroke rate. This also lets you run slightly higher air pressure for more support, whilst maintaining improved sensitivity in the start of the stroke.
Compatiblity with MRP's Ramp Control cartridge
As of December 6, 2017, we are working with MRP to ascertain this. For the time being, we have to say no.
Who is this NOT suited for
The Luftkappe is outright superior to the stock air spring for nearly everyone, however there are a few cases where it might not be for you:
– If you run your 36 at 180mm, it will be quite progressive. At 170mm and below, it should be fine. Likewise, a Yari at 170+mm, Pike at 160mm or Lyrik at 180mm will be quite progressive, and while the overall ride quality improves,you may also find it hard to use the last 5-10mm of travel – if this would bother you then have a think about it first.
– If you like running absurdly low sag for some reason. The Luftkappe runs more sag than the stock fork, but is firmer in the mid stroke – similar to a coil fork, but with ending-stroke ramp up to prevent harsh bottoming. If you're the kind of person who wants the fork to run 5% sag, this isn't for you. We could point out that a setup like that possibly indicates that your handlebars are set too low and you're compensating with oversprung suspension, but we aren't here to judge you, so maybe just don't buy it.
– If you're anal about your fork having an exact (but rounded-to-the-nearest-10mm-increment) amount of travel (it doesn't ever, anyway, but let's pretend it does). Because the Luftkappe balances forces at a pneumatic topout, the force right around topout is very low (literally zero other than friction), meaning the weight of the bike alone will cause it to sag a few millimetres. Your car's suspension sags under the vehicle's own weight, and realistically so should your bike – unless it was so sticky, overly stiff or over-preloaded that 10kg of bike weight wasn't enough to cause your suspension to move at all, of course. If the idea of only having an apparent 148mm out of a 150mm fork bothers you, stick with the stock fork.
Using the Luftkappe on Rockshox's 2018 Debonair spring system
For 2018, the Pike's Solo Air spring was updated to be more similar to the Lyrik/Yari, which previously had a larger negative chamber than the Pike. Lyrik/Yari were essentially unchanged except the shape of the topout bumper. All of them were given the "Debonair" name even though only one of them changed substantially. 2018 Pikes, Lyriks and Yaris benefit every bit as much from the Luftkappe as the previous generations, and the end result is better to boot.
Why we're able to do this
We can't speak for the original manufacturers, but we have a lot less constraints than them. We can say "well at 180mm some people will find it too progressive" – that isn't a luxury that large OEM manufacturers have. We can also spend months and months optimising the piston design alone. If we made public just how much time goes into developing these, a lot of people would simply think we were lying. In the meantime though, we didn't have to design the whole rest of the fork.
Negative air chamber size
As negative chamber size increases, the initial rate drops, but space and pressure constraints go up immensely beyond a certain point. We'd happily build negative chambers far bigger than their current size, but you'd also need stanchions that were a metre long (that's 0.00497 furlongs for those still using imperial measurements) to get enough positive volume in there.
EWS tested
We don't sponsor anyone, but without violating anyone's sponsorship obligations, let's just say that the Luftkappe/Lyrik proved to be a winning combination in the EWS this year.