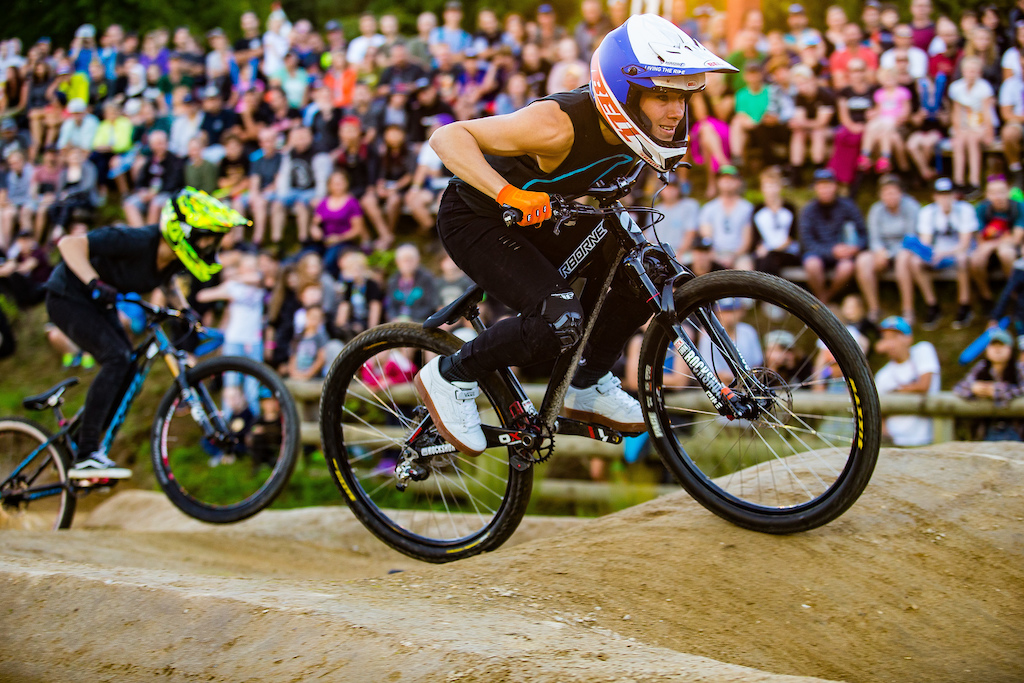 Reigning Queen of Crankworx, American Jill Kintner, is heading into June with an all-defining mission: fend off Australian Olympian Caroline Buchanan.
After racing her entire 2016 season with a substantial lead, just 25 points now separate Kintner and Buchanan in the race to secure the Crown and be known as the best all-round mountain bike athlete in the world—and Buchanan is out front.
Kintner charged through the 2016 season, taking her Crown by a considerable berth. Yet while 25 points hardly leave her behind, she is in new territory with a competitor primed by the sting of an Olympic fourth place. Nine years her junior, Buchanan won both final rounds on the Rotorua pump track handily and regained her composure after a clapstick incident in the semi-final heat with ease.
"I was really motivated for 2017 to be a year all about #livetheride," says Buchanan, who has created a new video and social campaign around this year's race circuit. "…After not succeeding at two Olympic games, my focus is to not chase the podiums and the destination so much, but ride the journey and live it up."
Now 26 years old, Buchanan set Crankworx aside during her Olympic preparation but says Kintner's 2016 run left her completely stoked to return. Having logged both a BMX and Four Cross World Championship, she is hungry for a new title, and pushing herself to try new things—including the Nitro Circus mega ramp last month—is proving fruitful. She even finished just 0.56 of a second behind Kintner in the Crankworx Rotorua Air DH—Canadian Vaea Verbeeck managing to win it—though it's one discipline Kintner previously had on lockdown.
"It is really cool to see so many women in Crankworx riding at such a high level, with more women competing in more disciplines than ever before. At the pinnacle of it all, you have the legendary Jill Kintner and BMX crossover superstar Caroline Buchanan battling it out for the queen's throne coming out of Rotorua," says Crankworx GM Darren Kinnaird. "Both women are creating new fans as the competition grows. It's really cool to see young girls getting engaged with the sport, and choosing their heroes to cheer for. From Queen Jill signs in Whistler to chants of 'Car-o-line, Car-o-line' in Rotorua, the women of Crankworx are showcasing the very best of women in sport."
A season-long competition with a $25,000 Crown on the line is never won or lost in one round, of course, and there are other contenders who could still go the distance.
With two downhills in Les Gets, one in Innsbruck and three remaining in Whistler, the World Cup contingent may prove a force, with riders like Verbeeck, Tracey Hannah (AUS), and Emilie Siegenthaler (SUI) all very much contenders, in third, fourth and sixth, respectively, in the standings.
Generalist Katy Curd (GBR) could climb from eighth spot and Canadian Casey Brown, with her love of downhill and enduro, is still very much on the board. Brown has already been a Queen of Crankworx, in the years before the festival became a world tour, and while the whip-off may not count toward the title, she certainly owns her own stake in Crankworx history as the undefeated champion of the whip-off.
Crankworx heads to Les Gets, France, June 14–18, and Innsbruck, Austria, June 21–25, for its inaugural European doubleheader. It will be broadcast live, all season long, on Crankworx.com and Pinkbike.com.
All four events in the quest for the Triple Crown of Slopestyle are broadcast live on all your devices exclusively on Red Bull TV. The Crankworx Les Gets Slopestyle and Crankworx Innsbruck Slopestyle presented by Kenda are the final events of each festival. Please check the listings below for broadcast times.
You can watch the Crankworx action live this June:
Crankworx Les Gets Dual Speed & Style
Thursday, June 15, 5:30–7:30 p.m. CEST
Thursday, June 15, 8:30–10:30 a.m. PST
Friday, June 16, 3:30–5:30 a.m. NZST
Les Gets Pump Track Challenge presented by RockShox
Friday, June 16, 8–10 p.m. CEST
Friday, June 16, 11–1 p.m. PST
Saturday, June 17, 6–8 a.m. NZST
Crankworx Les Gets Downhill presented by IXS
Saturday, June 17, 3:30–5:30 p.m. CEST
Saturday, June 17, 6:30–8:30 a.m. PST
Sunday, June 18, 1:30–3:30 a.m. NZST
Crankworx Les Gets Slopestyle
Sunday, June 18, 3:30–6 p.m. CEST
Sunday, June 18, 6:30–8:30 a.m. PST
Monday, June 19, 1:30–3:30 a.m. NZST
Mons Royale Dual Speed & Style
Thursday, June 22, 5:30–7:30 p.m. CEST
Thursday, June 22, 8:30–10:30 a.m. PST
Friday, June 23, 3:30–5:30 a.m. NZST
Raiffeisen Club Pump Track Challenge presented by RockShox
Friday, June 23, 8–10 p.m. CEST
Friday, June 23, 11–1 p.m. PST
Saturday, June 24, 6–8 a.m. NZST
Crankworx Innsbruck Downhill presented by IXS
Saturday, June 24, 3:30–5:30 p.m. CEST
Saturday, June 24, 6:30–8:30 a.m. PST
Sunday, June 25, 1:30–3:30 a.m. NZST
Crankworx Innsbruck Slopestyle presented by Kenda
Sunday, June 25, 3:30–6:00 p.m. CEST
Sunday, June 25, 6:30–9:0 a.m. PST
Monday, June 26, 1:30–4:00 a.m. NZST