For 2014, it's a whole new look for the entire Troy Lee Designs bicycle line that sees clean lines on the A1's with the new Turbo graphic, the addition of another solid with Drone red (to partner with the Drone grey that was released in November), and TLD's signature pinstripe from the paint shop had been applied to the matte blue model.
D3's are seeing 8 new models for 2014, four carbon fiber models and four composite. Two athlete signature models have been added to the line, with Aaron Gwin and Cam Zink collaborating with Troy and the TLD bicycle helmet designers.
---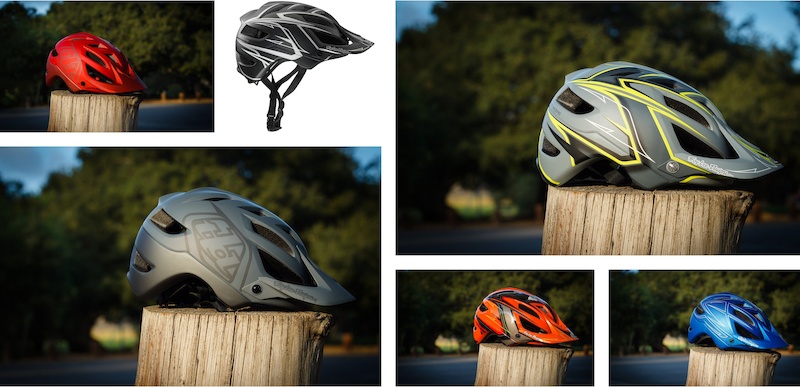 Troy Lee Designs A1 Details
• Certified to the following safety standards: CPSC 1203, CE EN1078, AS NZ 2063:2008
• Superior comfort due to a premium thickness helmet liner developed to cover entire interior of the A1 helmet
• Liner made of anti-microbial moisture wicking material
• Full spectrum adjustable visor with 1" 25mm range of motion
• Multi position cam lock adjustable rear stabilizer with +- 20mm range (60 mm horizontal | 20 mm vertical)
• Reinforced polycarbonate shell
• Anodized aluminum hardware
• 8 pressurizing intake passages
• 8 rear vacuum vortex outlets
• MSRP: Drone: $139, Turbo & Pinstripe: $165 USD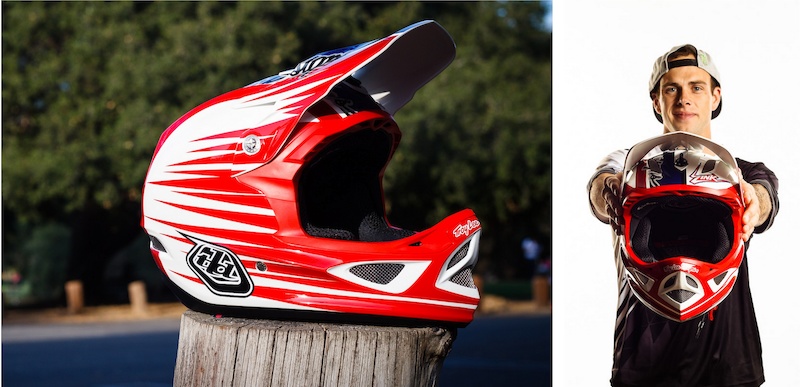 Cam Zink will be getting his own signature model D3 for 2014.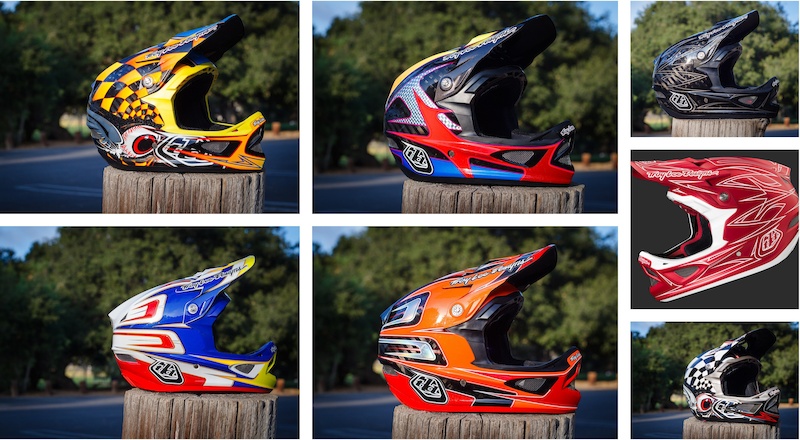 Troy Lee Designs D3 Details
• Technologically advanced aerospace carbon/composite shell construction
• Exceeds CPSC 1203, CE EN1078, ASTM F1952, ASTM F2032, and  ASTM F2040
• Includes 2 fully adjustable, graphic matching D3 visors
• Machined titanium visor screws for reduced weight
• Dual Density Shock Pad System
• 20 high-flow intake and exhaust ports for maximum ventilation
• Removable/washable comfort liner with CoolMax ™ and Dri-Lex ™
• Three EPS shell sizes for greater range of fitment
• Titanium D-ring chin strap fastener
• Carbon shell colors: Pinstripe II Black, Finishline Yellow, Gwin, Speed Orange
• Composite shell colors: Pinstripe II Red, Finishline Black, Speed White, Zink
• MSRP: Carbon: $450, Composite: $395 USD

Troy Lee Designs D2 Composite Details
• Aerospace composite shell
• Meets ASTM F2032-00 and F1952-00 standards, CPSC standard, 16 CFR part 1203 & CE EN 1078
• Large eyeport allows for easy fitting of all goggle shapes and sizes
• Adjustable Orbit ™ visor allows for custom height placement
• Features machined cross-top aluminum visor screws
• Hi-flow ventilation system incorporated into shell and liner
• Removable and washable comfort liner and cheek pads
• MSRP: $228, $198 USD for Midnight
---
2014 Athlete Roster
GRAVITY
Aaron Gwin
Sam Hill
Brendan Fairclough
Steve Peat
Bas VanSteenbergen
Eliot Jackson
Finn Finestone
Jono Jones
Luca Shaw
Luke Strobel
Walker Shaw
Micayla Gatto
Danielle Beecroft
Emilie Siegenthaler
FREERIDE
Brandon Semenuk
Cam Zink
Tom VanSteenbergen
Logan Peat
James Doerfling
ENDURO
Curtis Keene
Nicolas Vouilloz
Rachel Throop
Anka Martin
Neil Donoghue
LEGENDS and MEDIA HONCHOS
Leigh Donovan
Greg Herbold
Tyler Morland
Rob Warner
Eric Carter
www.troyleedesigns.com/bicycle/helmets
Related articles across the web