In response to popular demand, Vorsprung Suspension is excited to announce that its vaunted Corset air sleeve is now available to upgrade Fox/Trek DRCV shocks for Trek's Fuel EX, Remedy and Slash, bringing a new level of performance to some of the world's most popular trail & enduro bikes.
What the Corset offers:
– Coil spring feel, air spring weight
– Less initial resistance means better traction and small bump compliance
– More mid-stroke support
– Livelier, more predictable feel
– Better big-hit control
– No more preloaded initial feeling
– No more wallowy midstroke or blowing through the mid/end of travel
– Compatible with standard Fox air sleeve seals
– Easy to install – kit includes air shaft seals
The difference isn't subtle. Huge improvements in small bump absorption can be found through the much more coil-like spring characteristic, while giving more support in the middle and end of the stroke. The result? A smoother, more playful, more predictable ride. Better traction and control is coupled with a livelier feel to transform your bike into the terrain-devouring monster it was always meant to be.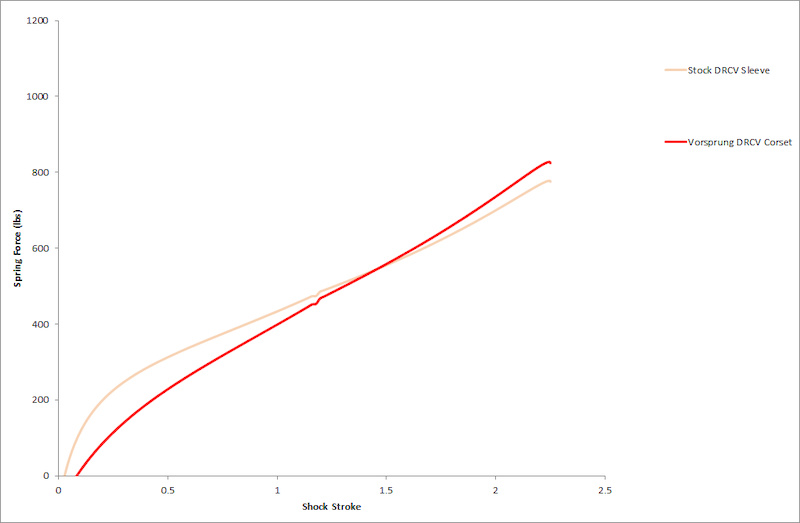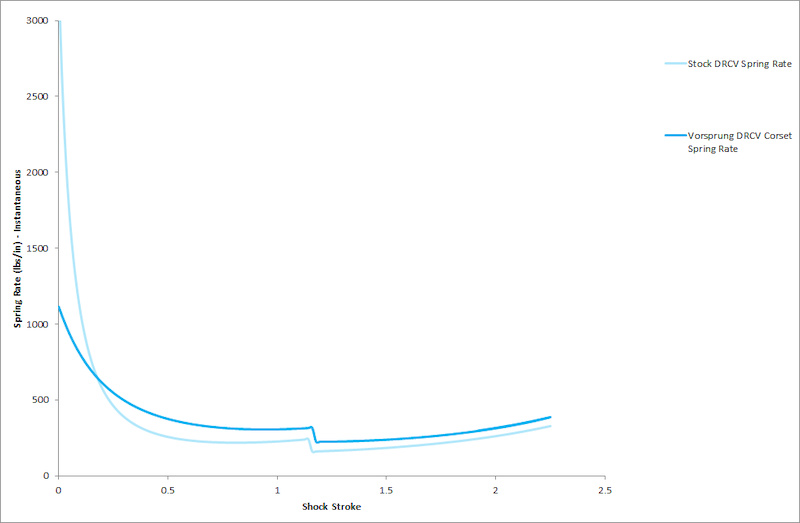 Immediately visible from the graphs above is the tremendous reduction in initial spring rate – this reduces the initial resistance to movement enormously, giving a massive improvement in compliance early in the travel. Stronger ramp-up is also possible at the end of the stroke due to the higher pressures involved.
Also available now is a Specialized Enduro specific Corset. Tuned specifically for the unique suspension characteristics of the Enduro, the Corset delivers a ride quality that is smoother and better controlled than ever before. Available now directly fromVorsprung Suspension, and from TF Tuned in the UK, the Corset is proudly made in Canada.
---
MENTIONS: @VorsprungSuspension / @TFTunedShox